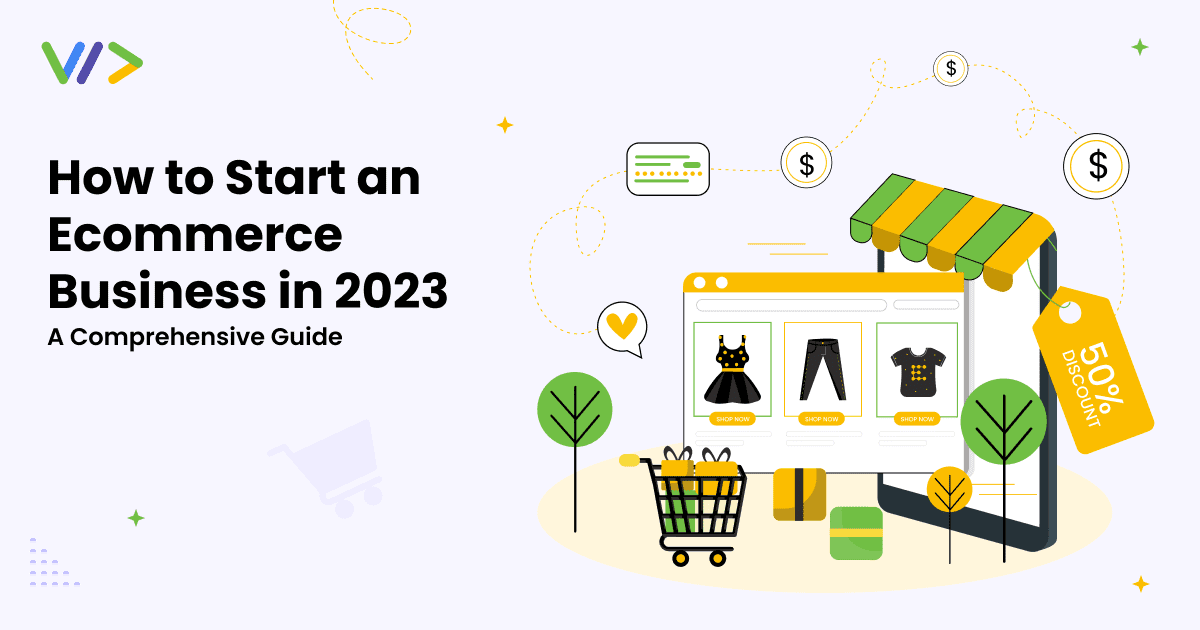 A Comprehensive Guide
Starting an ecommerce business can be an exciting and profitable venture. With the growing popularity of online shopping, there's never been a better time to enter the ecommerce market. However, launching a successful ecommerce business requires careful planning and execution. In this comprehensive guide, we will take you through the step-by-step process of starting and growing your own ecommerce business in 2023.
Table of Contents
---
1. Introduction
Starting an ecommerce business involves selling goods or services online. With the right planning and execution, an ecommerce business can generate significant revenue and provide a flexible lifestyle. However, it requires careful consideration of various factors, including product selection, market research, branding, and marketing strategies.
In this guide, we will cover each step of the process, providing you with valuable insights and practical tips to help you launch a successful ecommerce business in 2023. Let's dive in!
---
2. Finding Product Opportunities and Choosing What to Sell
The first step in starting an ecommerce business is finding the right product to sell. This crucial decision will determine the success of your business. Here are some strategies to help you identify product opportunities and choose what to sell.
Finding a Product to Sell
To find a product to sell, start by identifying your passions, interests, and areas of expertise. Consider your own needs and the needs of potential customers. Conduct market research to identify trending products, gaps in the market, and emerging consumer preferences.
Evaluating Your Idea
Once you have a product idea in mind, it's essential to evaluate its potential. Validate your idea by conducting market research, analyzing competition, and assessing the demand for your product. Consider factors such as target audience, pricing, profit margins, and market saturation.
Obtaining Your Product
After finalizing your product idea, you need to determine how and where to obtain it. Research different sourcing methods, such as manufacturing, white-labeling, print-on-demand, or retail arbitrage. Evaluate the pros and cons of each method and choose the one that aligns with your business goals and resources.
Selling Your Retail Products Online
If you already have a brick-and-mortar retail business, expanding your operations online can help you reach a wider audience and increase sales. Choose a reliable ecommerce solution to build your online store. Leverage the power of ecommerce platforms and marketplaces to showcase and sell your products to a global audience.
---
3. Thoroughly Researching Your Competition and Writing a Business Plan
To succeed in the competitive ecommerce landscape, you must thoroughly research your competition and develop a comprehensive business plan. Here's what you need to do:
Researching Your Competition
Before launching your ecommerce business, it's crucial to understand your competition. Identify key competitors in your niche and analyze their products, pricing, marketing strategies, and customer reviews. Use this information to differentiate your business and provide unique value to your target audience.
Writing a Business Plan
A well-crafted business plan serves as a roadmap for your ecommerce business. It outlines your goals, target market, marketing strategies, financial projections, and more. A business plan is essential for securing funding, attracting investors, and guiding your business decisions. Include your mission statement to communicate your brand's core values to stakeholders.
---
4. Choosing a Logo and Name and Setting Up Your Online Store
Creating a strong brand identity is vital for building trust and recognition among your target audience. Here's what you need to do:
Choosing a Business Name
Choose a catchy and memorable business name that aligns with your brand identity. Conduct a thorough search to ensure the name is unique and not already in use by another company. Secure a corresponding domain name to establish a strong online presence.
Creating a Logo
Design a professional and visually appealing logo that represents your brand. Your logo should be scalable and easily recognizable across different platforms and marketing materials. Consider hiring a professional designer or using online logo makers to create a unique logo that reflects your brand's personality.
Understanding Search Engine Optimization (SEO)
To drive organic traffic to your ecommerce website, it's crucial to understand the basics of search engine optimization (SEO). Optimize your website's structure, content, and meta tags to improve its visibility in search engine results. Conduct keyword research and incorporate relevant keywords into your product descriptions and website copy.
Did you know that if your Shopify page takes more than 5 seconds to load, 38% of your visitors are likely to bounce back? Furthermore, a poor page score can negatively impact your SEO rankings. At Webplanex, we are Shopify speed optimization experts who can help you improve your page loading times and boost your online performance.
Building Your Store
Choose a user-friendly website builder, to build your ecommerce store. Customize your store's design, layout, and navigation to provide a seamless shopping experience for your customers. Optimize your product pages with high-quality images, compelling product descriptions, and clear calls to action.
Looking to build an online store that is both powerful and secure? Look no further than our trusted Shopify development services! Our company, based in India, offers a wide range of services to help you create a robust and sales-driven Shopify store that will help take your business to the next level.
With our Shopify expert team of developers, you can rest assured that your website will be built to the highest standards. To focus on security, scalability, and performance, we can help you to build the Shopify store of your dreams!
WooCommerce is an eCommerce platform that supports various advanced features and functions and is entirely customizable. You can hire WooCommerce developers on a full-time and hourly basis. Having a 24X7 WooCommerce support team aids in quickly resolving your problems or bugs in your existing store or when you migrate to WooCommerce.
Our Magento developer is responsible for building and maintaining our ecommerce website, developing custom modules and themes ensuring that the website is responsive, scalable and secure. However, our certified developer can be hired hourly/weekly/monthly. We have highly qualified expert consultants, project managers, and developers who will work alongside you dedicatedly. We are at the forefront with our high range of development services like web design, testing and many more.
Choosing Your Sales Channels
Expand your reach by choosing the right sales channels for your ecommerce business. Consider selling on popular platforms like Amazon, eBay, or social media platforms. Leverage these channels to connect with a wider audience and drive more sales. Integrate your online store with these platforms for seamless inventory management and order fulfillment.
---
5. Choosing Your Shipping Strategy and Setting Sales and Marketing Goals
To ensure smooth order fulfillment and maximize customer satisfaction, you need to choose the right shipping strategy. Set realistic sales and marketing goals to drive growth and track your progress. Here's what you need to consider:
Shipping Strategy: Determine the best shipping methods for your products and target audience. Research shipping rates, packaging options, and fulfillment services. Provide clear shipping information on your website to set customer expectations.
Sales and Marketing Goals: Set specific and measurable sales and marketing goals to track your business's performance. Consider metrics such as conversion rate, customer acquisition cost, and customer lifetime value. Develop strategies to drive traffic, increase conversions, and retain customers.
---
6. Launching Your Business
After completing the necessary preparations, it's time to launch your ecommerce business and start acquiring customers. Here's how you can make a successful launch:
Acquiring Your First Customer
Focus on acquiring your first customer and delivering an exceptional shopping experience. Offer special promotions, discounts, or incentives to attract new customers. Leverage social media, email marketing, and influencer partnerships to generate buzz and drive traffic to your online store.
Marketing Your Store
Implement a comprehensive marketing strategy to promote your ecommerce store. Utilize a mix of digital marketing tactics, such as social media marketing, content marketing, email marketing, and paid advertising. Develop engaging content, leverage user-generated content, and optimize your website for search engines to increase visibility and attract targeted traffic.
Email Marketing Essentials
Implement email marketing campaigns to engage with your customers and drive repeat purchases. Build an email list and segment your subscribers based on their preferences and behaviors. Send personalized and targeted emails to nurture relationships, promote new products, and offer exclusive discounts.
Driving Traffic from Social
Harness the power of social media platforms to drive traffic to your ecommerce store. Create compelling and shareable content, run targeted ads, and engage with your audience on platforms like Facebook, Instagram, and other social media platform. Collaborate with influencers or brand ambassadors to expand your reach and gain credibility.
Driving Traffic and Conversions from Paid Ads
Invest in paid advertising to drive targeted traffic and increase conversions. Set up PPC (Pay-Per-Click) campaigns on platforms like Google Ads and Bing Ads. Conduct thorough keyword research and optimize your ad copy and landing pages to maximize ROI. Monitor and analyze your ad performance to make data-driven decisions.
Optimizing for Higher Conversions
Continuously optimize your website and sales funnel to improve conversion rates. Implement A/B testing to experiment with different designs, layouts, and calls-to-action. Optimize your product pages, checkout process, and payment options to reduce friction and enhance the user experience.
Using Analytics to Uncover Insights
Leverage web analytics tools, such as Google Analytics, to gain valuable insights into your website's performance. Track key metrics like traffic sources, bounce rate, conversion rate, and average order value. Use these insights to identify areas for improvement and make data-driven decisions to optimize your ecommerce business.
---
7. How Much Does It Cost to Start an Ecommerce Business?
The cost of starting an ecommerce business can vary depending on various factors, such as the type of products you sell, the size of your inventory, and your marketing strategies. Here are some common expenses to consider:
Product: Costs associated with sourcing or manufacturing your products, including raw materials, inventory, supplier fees, and patents.
Operating: Incorporation and legal fees, additional software or tools, business insurance, accounting services, and other administrative expenses.
Online Store: Website or platform subscription fees, hosting and domain costs, website development or customization, and ongoing maintenance expenses.
Shipping: Packaging materials, shipping labels, postage or courier fees, and any fulfillment or warehousing services you use.
Offline: If you have a physical retail presence, consider costs such as rent, utilities, point-of-sale systems, and store decorations.
Team/Staff: Salaries, benefits, contractor fees, training, and any other personnel-related expenses.
Marketing: Branding, logo design, advertising campaigns, content creation, social media management, and other promotional expenses.
While starting an ecommerce business can be done on a shoestring budget, it's important to have a realistic estimate of the costs involved. Carefully consider your financial resources and develop a detailed budget to ensure your business's sustainability and growth.
---
8. Tips for Starting an Ecommerce Business
Starting an ecommerce business can be challenging, but with the right approach, you can increase your chances of success. Here are some tips to keep in mind:
Forget about Year One Profitability: Building a successful ecommerce business takes time. Focus on laying a strong foundation, testing different strategies, and reinvesting your profits back into your business.
Know Your Target Audience: Understand your target audience's needs, preferences, and pain points. Tailor your products, marketing messages, and customer experience to meet their expectations.
Sell an In-Demand Product: Offer products that are in high demand or address specific market gaps. Research industry trends, emerging markets, and customer preferences to identify lucrative opportunities.
Experiment with Marketing and Advertising: Try different marketing tactics and advertising channels to find what works best for your business. Continuously analyze and optimize your campaigns based on data and customer feedback.
Invest in Outreach and Link Building: Build relationships with influencers, bloggers, and other reputable websites in your industry. Focus on building high-quality backlinks to improve your website's visibility and search engine rankings.
Launching a successful ecommerce business requires careful planning, diligent execution, and continuous adaptation. Stay informed about industry trends, customer preferences, and emerging technologies to stay ahead of the competition.
---
9. The Growth in Retail Ecommerce Sales Worldwide 2021-2026
Starting an ecommerce business is a smart move considering the growing trend of online shopping. According to Forbes Advisor, here are some ecommerce statistics that highlight the potential of this industry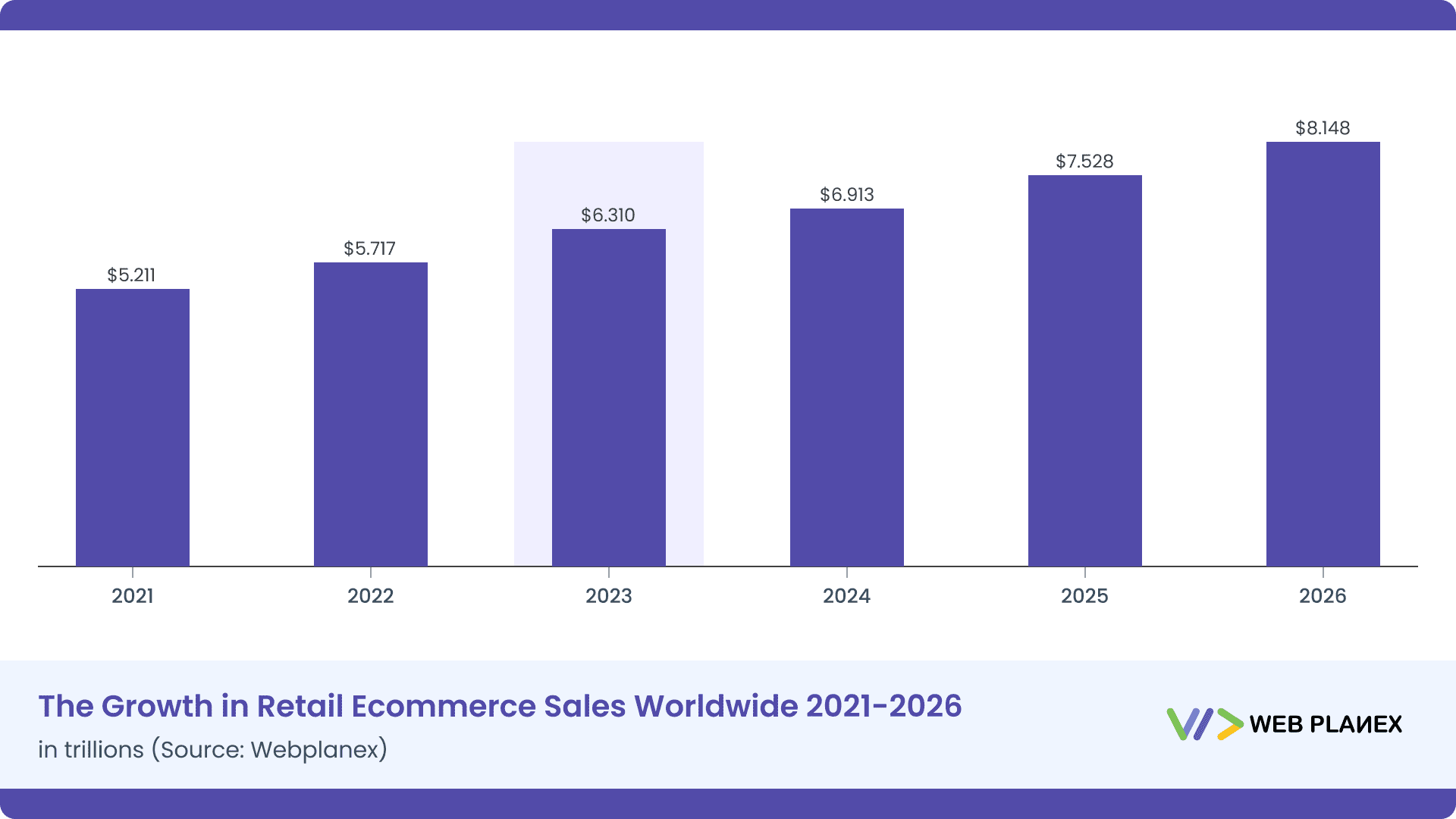 20.8% of retail purchases are expected to take place online in 2023.This statistic showcases the increasing preference for online shopping over traditional retail.
By 2026, 24% of retail purchases are expected to take place online: This emphasizes the long-term viability and growth potential of ecommerce.
E-commerce sales are expected to grow 10.4% in 2023. With the increasing number of customers shopping online, there is a significant opportunity to boost your sales through ecommerce.
The global e-commerce market is expected to total $6.3 trillion in 2023. Selling online allows your business to reach customers worldwide, opening up new growth opportunities.
By 2026, the e-commerce market is expected to total over $8.1 trillion. This projected market share further emphasizes that ecommerce is not a passing trend but a long-term investment.
The U.S. e-commerce market will reach over $1.1 trillion in sales in 2023. Targeting customers nationally can be easily achieved through ecommerce, allowing you to tap into a vast market.
In the U.S., 16.4% of retail purchases are expected to take place online in 2023. This statistic highlights the prevailing consumer preference for online shopping in the United States.
Amazon accounts for 37.8% of e-commerce sales, the highest market share of all e-commerce companies: Leveraging platforms like Amazon can greatly enhance your online sales potential.
Walmart, eBay, and AliExpress ,Shopify are the most visited e-commerce websites: These popular platforms attract a large number of visitors, indicating the potential reach and visibility your business can achieve by utilizing them.
With these statistics in mind, starting an ecommerce business can be a lucrative venture. By leveraging the advantages of online sales, you can tap into a growing market and scale your business effectively.
---
10. The Growing eCommerce Market in India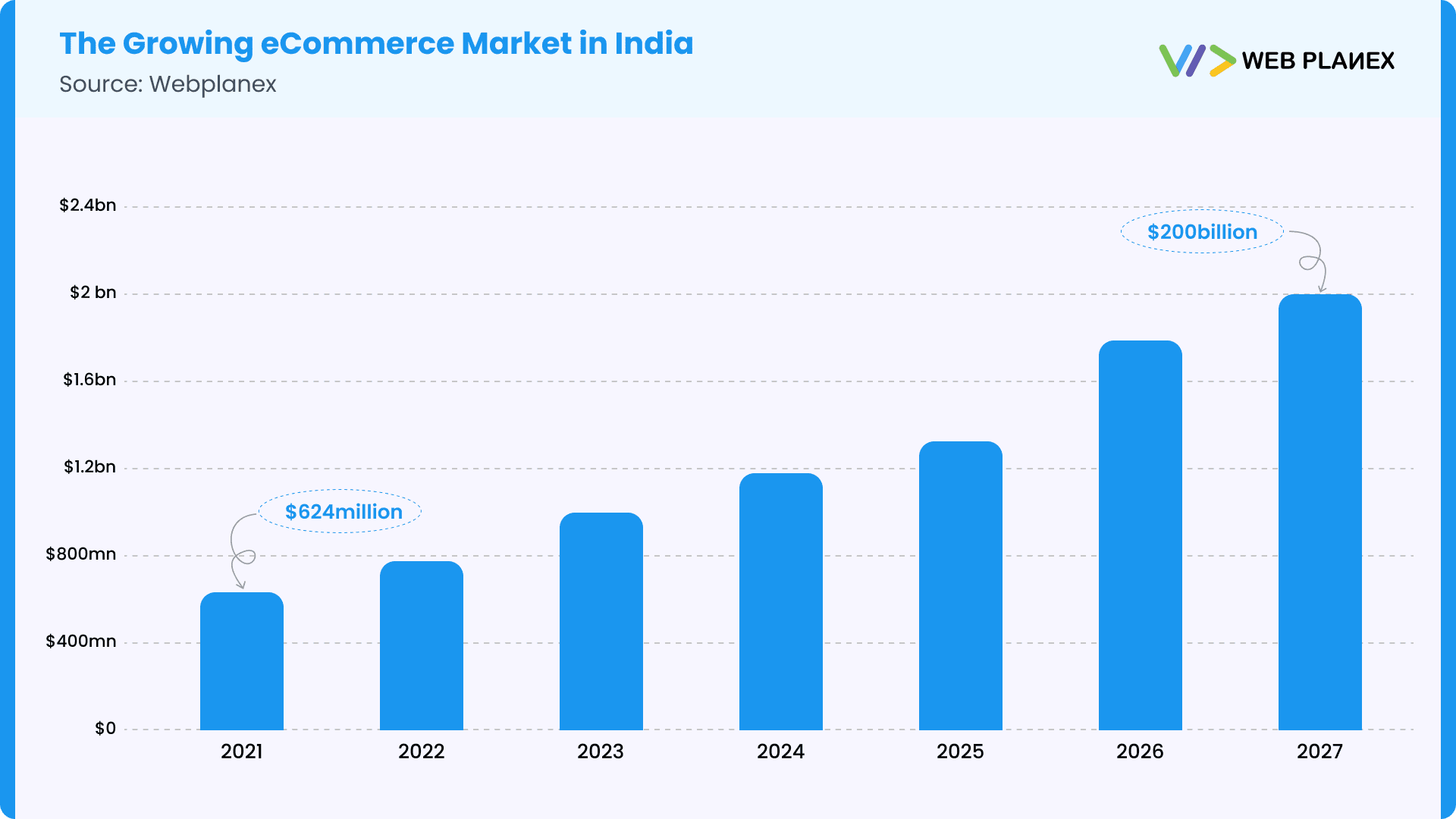 The eCommerce market in India has experienced significant growth in recent years, driven by factors such as increasing internet penetration, the rise of smartphones, and a growing middle class with disposable income. In this article, we will explore the key trends, challenges, and opportunities in the Indian eCommerce market.
Overview of the Indian eCommerce Market
India's eCommerce market has witnessed exponential growth, becoming one of the world's fastest-growing markets. According to recent data, the market is projected to reach $200 billion by 2027, growing at a CAGR of 17.2%. This growth can be attributed to several factors, including :
Increasing Internet Penetration
With the advent of affordable smartphones and affordable internet plans, internet penetration in India has been steadily rising. As of 2021, India had over 624 million internet users, making it the second-largest online market globally. This widespread internet access has created a vast customer base for eCommerce platforms.
Rise of Mobile Commerce
Mobile commerce, or m-commerce, has played a pivotal role in the growth of the Indian eCommerce market. The increasing adoption of smartphones has made it easier for people to shop online. Mobile apps and optimized websites have made the shopping experience seamless and convenient for consumers, further driving the growth of eCommerce.
Growing Middle Class and Disposable Income
India's middle class is expanding rapidly, accompanied by a rise in disposable income. As more people join the middle-class bracket, their purchasing power increases, leading to a surge in online shopping. The availability of a wide range of products at competitive prices has also attracted consumers to eCommerce platforms.
Key Players in the Indian eCommerce Market
The Indian eCommerce market is dominated by several major players, each with its unique selling proposition. Let's take a closer look at some of the key players driving the industry:
Flipkart
Flipkart, founded in 2007, is one of India's leading eCommerce platforms. It offers a wide range of products across various categories, including electronics, fashion, and home appliances. In 2018, Flipkart was acquired by Walmart, further solidifying its position in the market.
Amazon India
Amazon India is the Indian arm of the global eCommerce giant, Amazon. With a strong presence in the country, Amazon India offers a vast selection of products, fast delivery, and competitive pricing. It has also introduced innovative services like Amazon Prime and Amazon Pay to enhance the customer experience.
Snapdeal
Snapdeal is another prominent player in the Indian eCommerce market. It caters to a diverse range of products, including electronics, fashion, and home essentials. Snapdeal focuses on providing value for money and discounts to attract customers.
Paytm Mall
Paytm Mall, backed by the digital payments company Paytm, has gained popularity in recent years. It offers a wide range of products and leverages its digital wallet services to provide a seamless shopping experience to customers.
Trends and Opportunities in the Indian eCommerce Market
The Indian eCommerce market is dynamic and constantly evolving. Here are some trends and opportunities that businesses can leverage:
Increased Focus on Tier 2 and Tier 3 Cities
While the metros and Tier 1 cities have been the primary focus for eCommerce companies, there is immense potential in Tier 2 and Tier 3 cities. These cities are witnessing a surge in internet users and have untapped markets waiting to be explored. Companies that can cater to the specific needs and preferences of these regions have a significant growth opportunity.
Growth of Niche eCommerce Platforms
The rise of niche eCommerce platforms targeting specific product categories or customer segments is a notable trend in the Indian market. These platforms offer curated products, personalized recommendations, and a unique shopping experience. By catering to specific niches, these platforms can differentiate themselves and attract a loyal customer base.
Integration of Augmented Reality (AR) and Virtual Reality (VR)
AR and VR technologies are gaining traction in the Indian eCommerce market. These technologies enable customers to visualize products in a virtual environment, enhancing the shopping experience. By integrating AR and VR, eCommerce companies can bridge the gap between online and offline shopping, boosting customer engagement and sales.
Challenges Facing the Indian eCommerce Market
Despite its rapid growth, the Indian eCommerce market faces certain challenges. These challenges include:
Logistics and Infrastructure
India's vast geographical expanse and diverse population pose logistical challenges for eCommerce companies. Ensuring timely delivery, especially in remote areas, can be a significant hurdle. Additionally, the need for robust warehousing and distribution networks adds to the complexities.
Cash on Delivery (COD) Culture
The cash-on-delivery culture in India, where customers prefer paying for their purchases in cash upon delivery, adds complexity to the payment process for eCommerce companies. This increases the risk of cancellations and returns, impacting the overall profitability.
Competition from Traditional Retail
Despite the rapid growth of eCommerce, traditional retail still dominates a significant portion of the Indian market. Brick-and-mortar stores offer personalized customer service, immediate gratification, and a touch-and-feel experience that online platforms struggle to replicate fully.
The Indian eCommerce market presents immense opportunities for businesses willing to navigate its unique challenges. With increasing internet penetration, the rise of mobile commerce, and a growing middle class, the market shows no signs of slowing down. By understanding the trends, capitalizing on niche segments, and addressing the challenges, businesses can thrive in this dynamic and lucrative market.
In conclusion, starting an ecommerce business in 2023 offers immense opportunities for growth and success. Follow the steps outlined in this guide, adapt to changing market conditions, and always prioritize delivering value to your customers. With dedication, perseverance, and a customer-centric approach, your ecommerce business can thrive in the digital world. Good luck on your entrepreneurial journey!