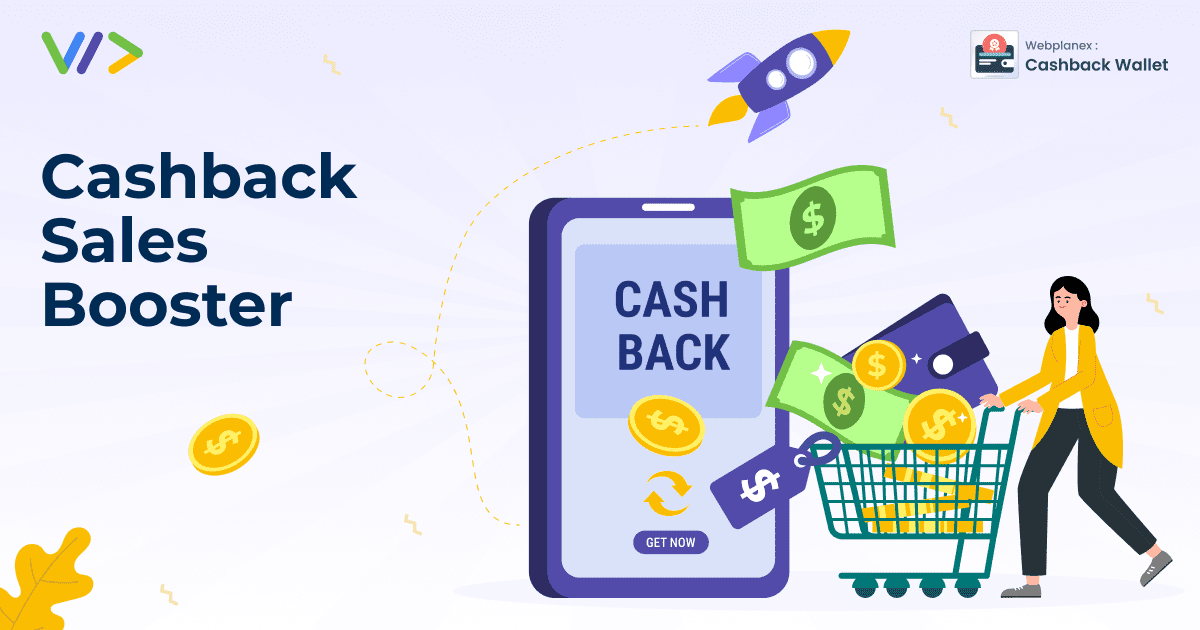 In today's highly competitive e-commerce landscape, finding innovative ways to increase sales and foster customer engagement is crucial for the success of any e-commerce online store. Webplanex: Cashback Wallet, developed by Webplanex, is a powerful Shopify app that offers a unique and effective solution to achieve these goals. By implementing cashback incentives, you can incentive customers to make repeat purchases, resulting in improved sales and increased customer loyalty.
One of the standout features of Cashback Wallet is the ability to add product and collection labels. These labels serve as eye-catching indicators for customers, prominently displaying cashback percentages or fixed amounts. For instance, you can include labels such as "+ 10% Cashback" or "20% Cashback Hot Deal" to entice customers and highlight special offers. This feature ensures that customers are immediately aware of the cashback rewards associated with specific products or collections, encouraging them to make a purchase.
Customization plays a crucial role in branding, and Cashback Sales Booster offers label customization options to match your Shopify store's design theme. You have the freedom to adjust the text font color and label background color, allowing for seamless integration with your brand's aesthetics. By aligning the labels with your overall visual identity, you create a cohesive and engaging shopping experience for your customers, reinforcing your brand presence throughout their journey.
Keeping customers informed and engaged is essential for building lasting relationships. With Webplanex: Cashback Wallet, you can automatically send beautifully designed thank-you notes to customers after they complete their purchases. These personalized email notifications not only express gratitude but also provide details about the earned and used cashback. By leveraging these communications, you enhance customer satisfaction and strengthen their connection to your brand, increasing the likelihood of repeat purchases.
To enhance transparency and convenience, Cashback Sales Booster provides each customer with a dedicated wallet section. This wallet displays all cashback transaction details, including cashback usage and received amounts. Customers can easily access their wallet through their account page, allowing them to track their accumulated rewards and make informed purchasing decisions. This feature adds a layer of gamification, motivating customers to return to your store for future purchases to maximize their cashback rewards.
As a Shopify store owner, access to comprehensive insights and statistics is crucial for making data-driven decisions. Cash Back Sales Booster offers detailed store statistics, including order listings with cashback calculations. These statistics provide valuable information about the earned cashback by customers and their spending patterns. By analyzing the weekly, monthly, and all-time statistics, you gain a deeper understanding of customer behavior and can tailor your strategies accordingly to optimize sales and engagement.
Pricing is always a consideration, and Webplanex: Cashback Wallet offers affordable plans suitable for businesses of all sizes. The Basic plan is completely free and allows you to handle up to 100 orders per month, making it an excellent starting point for small businesses looking to implement cashback rewards. The Medium plan, priced at $19.99 per month, supports up to 500 orders per month and includes the added benefit of label translation into your preferred language. For larger operations, the Advanced plan, priced at $49.99 per month, offers unlimited orders and further customization options, providing scalability for growing businesses.
To address common inquiries, Here are some Frequently Asked Questions about Webplanex: Cashback Wallet:
Is an account required for customers to access their cashback wallet?
Yes, customers must have a store account to access their cashback wallet. However, you have the option to make customer accounts optional for purchases, while requiring an account to access cashback rewards.
How does the free plan work?
The Basic plan is completely free and accommodates up to 50 orders per month. It is designed to cater to small businesses, providing an opportunity to test the cashback rewards system.
Can I downgrade my plan tier at any time?
Yes, you can downgrade to the Free plan if your store receives fewer than 50 orders per month. However, please note that additional orders beyond your plan's limit will incur a charge of ¢15 per order.
How can customers earn cashback?
As a store owner, you can set cashback amounts or percentages for specific products. When customers purchase these products, the corresponding cashback amount is credited to their account upon order fulfillment.
How can customers redeem their cashback?
Customers can access their wallet from their account page, where they can view their cashback balance. To redeem their cashback, they can generate a discount code that can be applied to their next purchase.
Can I set cashback for collections?
Yes, you can apply cashback amounts or percentages to entire collections, which will be applicable to all products within that collection.
By leveraging Cash Back Sales Booster, you can revolutionize your sales strategy and enhance customer engagement. Don't miss the opportunity to provide your customers with a rewarding shopping experience. Start your 7-day free trial of Cash Back Sales Booster today and witness the positive impact on your e-commerce business.
Please note that the information provided in this blog is based on the available details at the time of writing and may be subject to updates. For further assistance or inquiries, feel free to reach out to us via email, phone, or Skype. We're here to help you maximize your e-commerce store potential with Cash Back Sales Booster.
Start your journey towards increased sales at https://apps.shopify.com/cashback-sale-booster and customer loyalty today!