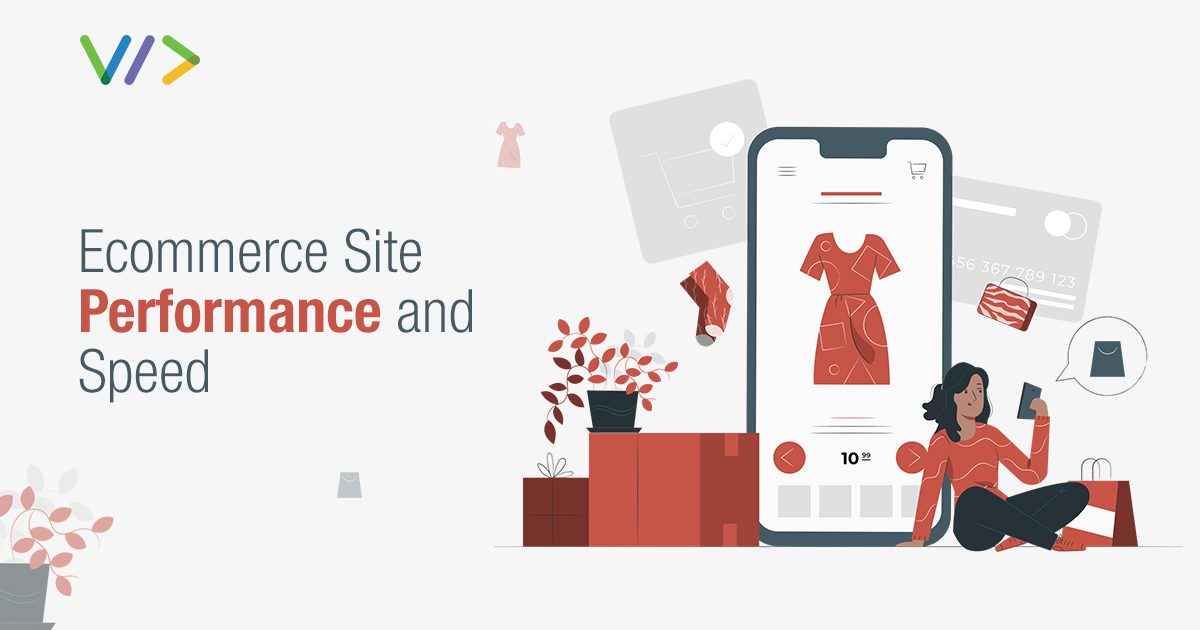 Table of Content
What is Site Speed?
Why are sites required to be Fast?
How can I speed up my site with the help of Shopify?
Various Tools utilized for Test Website Speed
How does page speed affect ecommerce?
7 Ways to Improve your ecommerce site performance and page speeds
How do I test my website speed?
When it comes to the ecommerce industry, Shopify is one of the necessary ecommerce platforms, and it's easy to see. When anyone shops online at other sites, do you enjoy it when some site pages take time to load? The answer is not because now everyone needs work to be done fast. The expectation is smooth, enjoyable, snappy this is more likely to purchase. The longer you wait to speed up your site, the more consumers you'll lose. So, Ecommerce site performance and speed optimization is one of the essential and necessary things in the success of an ecommerce business. It not only increases the speed but also helps to increase SEO and gives you a better User experience (UX) to visitors.
There are many differences in website speed. The first one is the difference between mobile and desktop site speed. You can see that sometimes your mobile speed is higher than desktop speed and vice versa. The same thing happens; sometimes, the home page will take more time than other pages of your products. So, it is essential to consider all points while testing the website speed. In May 2021, Google was also releasing an upgrade that will make it more like sites with good site performance in its search results. There are many reasons why to use the platform; one always overlooks the advantage for website speed optimization for checkout pages—readout why sites are required to fast and how to improve your site performance.
What is Site Speed?
In simple words, we can say that the site speed means the average speed for all of the pages across your site. But there are a few common misunderstandings regarding the site speed and page speed, as page speed is the time it takes to load a particular page on your website.
Why are Sites required to be Fast?
Every ecommerce site must require to be fast because, as a result, fast site speed will result in a better user experience while a slow site speed will result in a bad user experience. A user will not stay on the site unless the speed is faster. For example, when any customer visits a restaurant to eat food when the service is slow from the waiter, the result is poor. Slow site speed can result in poor search engine rankings, site traffic, and user experience. Moreover, any sites which load fastly will typically help to drive more traffic have better conversion rates.
Estimate that more than 50% of shoppers will leave after waiting 3 seconds. All in all, fast load times help to assure all customers can make purchases on your site. Another thing that is also taken into consideration is that product page speed is one of the Google ranking factors, meaning quicker websites are ranked in search results. So alone with site speed is also an essential part of successful SEO(Search Engine Optimization). Website speed is vital for your bounce rates, sales, conversions, and much more.
It also said that the first impression is the last impression as this can also be applied to the website when users visit your website for the first time, and the quality of a website is not in proper manner, slow, very much challenging to navigate so this time that users will not visit again or come back. So, rather than this, if your first impression is vital and makes sure your website pages load faster.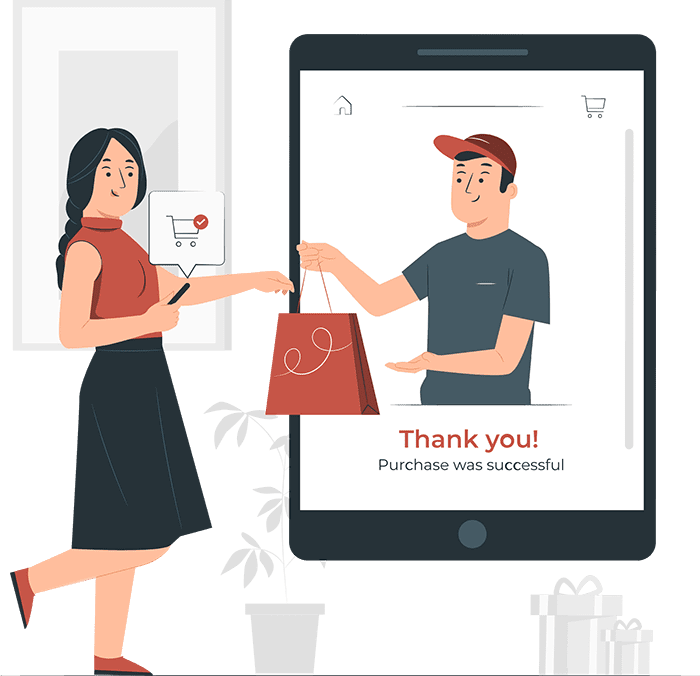 How can I speed up my site with the help of Shopify?
If you are running a Shopify ecommerce website there are various tips that can highly help to increase your site's loading speed.
Utilized Compress Image
Select Best, Fast Responsive Shopify Theme
Fonts
Utilized High-Quality Hero Layout
Implement AMP
Minimize the various number of apps installed
Analyze Web page Performance
Lazy Loading
Various Tools utilized for Test ecommerce site performance and Speed
Previously, we discussed that for any e-commerce store, website speed is an important thing. To improve website speed by studying more about its current state. Here is the list of various tools which help analyze your present site speed.
Google PageSpeed Insights – The first one is the PageSpeed insight website test tool is one of the great for two reasons.
Very easy to use – It is very simple as a copy/paste of the URL in the text box, waiting a few seconds, and the result will be ready.
All the necessary things are very nicely presented with various colors ranging from red to green, and this way, you instantly know how your site is performing.
As a result, you will find the score of various ranges from 0 to 100 points. If this score shows between 0 to 49, it means plenty of the changes are to be done to your sites. And getting above 85 or above means that your page is performing well.
One of the great features is also that you can get a result of both means desktop and mobile. Mobile traffic accounts for 50% of all online traffic; this is important if you need to improve your site speed.
Google Official Speed Test Tool – Although it might not offer anything more advanced than other tools on this list. Its result might matter. It's very simple to rank well on Google depending on metrics set forth by Google itself. And if this gives users some best suggestions for improvement, then that point is necessary to be taken into consideration.
GTmetrix – GTmetrix is one of the widely utilized tools for website speed. For this, if you have to upgrade to a paid plan and get access to more fine features, then this free website speed tool is the best one to sign up. Utilizing these tools, it is very easy you have to only enter your URL, and in a few seconds, you get the whole summary, score, total time taken to page load, page size much more. One of the best features is that tools also show your requests in a waterfall chart, which shows you in hand all problems. Moreover, you can also select the location in which you want to test your URL. The default currently available locations include Dallas, Hong Kong, London, and Mumbai.
Webpagetest – WebpageTest is also a website speed test tool generated by a Chrome engineer at Google Called Patrick Meenan. One of the best things is that you can use this for free as you can utilize and run a website speed from various locations around the globe. These tools are not only helpful for how you can speed your sites but also tell you what effect optimization measures will have on the loading time of your website.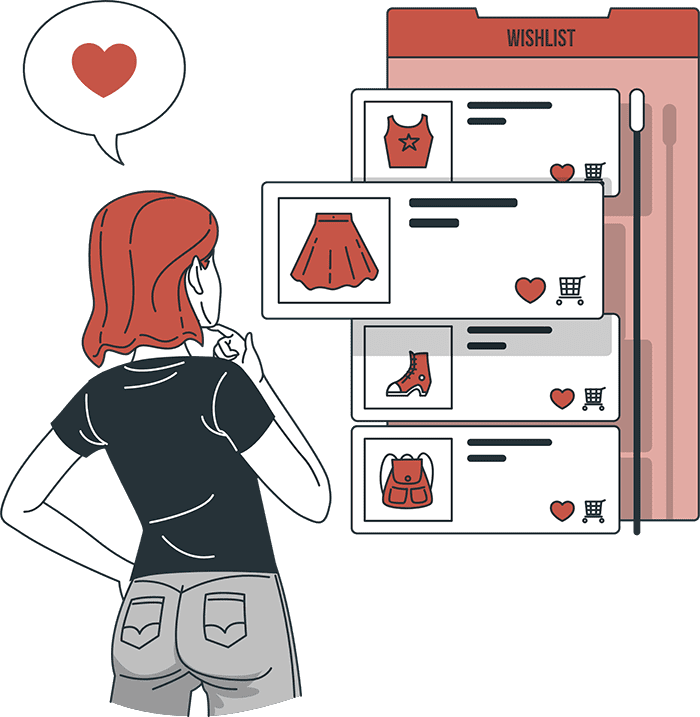 How does page speed affect ecommerce site performance and speed?
For an ecommerce site, page speed is highly affected, and it is a very basic thing needed as page speed measures the time it takes the content URL to load. The overall performance of the site highly depends upon site speed. It's scored by various services tools like Google Pagespeed Insights, GTmetrix, which looks at various load times on your site in aggregate.
There are 80% of customers dissatisfied with a site performance which is likely to buy again from them again. 70% of smartphone users expect a website to load in 3 seconds or less than that. 50% of online shoppers expect web pages to load in 2 or 3 seconds or less than that.
Mainly a point to keep in mind for the ecommerce site owner that time delay can affect sales too. This not only affects the sales but also affects organic traffic, SEO much more.
Search Engine Optimization (SEO) experts will also tell you that slow pages hurt organic rankings across all devices like desktop, mobile, etc. That means Shopify is the right out of the box for your business. Fact Because there are various factors that impact site speed, Shopify ensures that you have the fastest infrastructure available. Just go through that your commerce platform is not good to make speed a top priority. Shopify has taken control of your ecommerce site performance and speed by highly focusing on the following areas.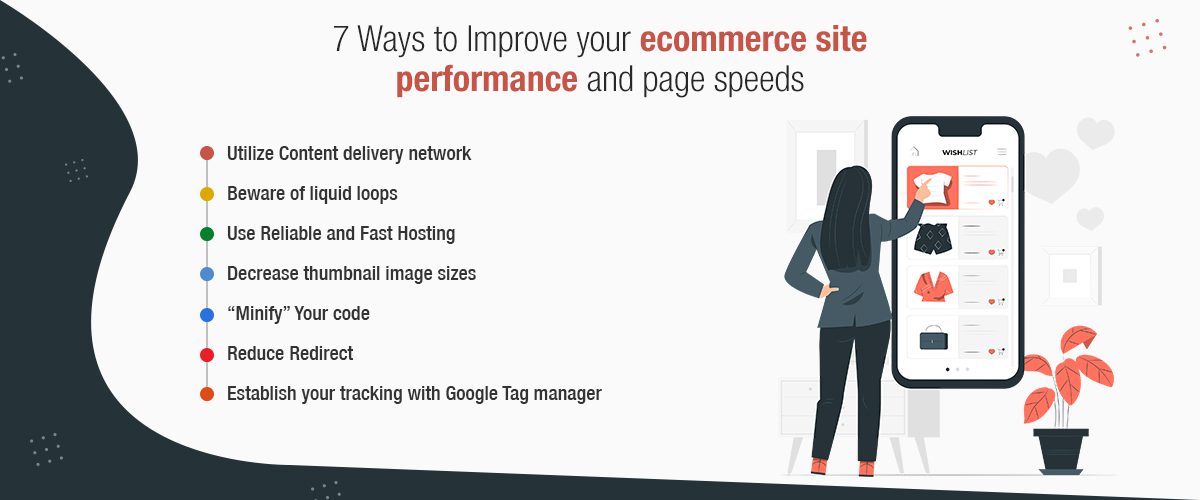 Utilize content delivery network (CDN)
A content delivery network or Content Distribution Network (CDN) is a group of servers that find worldwide. It distributes the content delivery load through to the nearby server to your visitor location, making the local user experience quicker. However, more ecommerce sites are becoming worldwide, a CDN or, in the case of Shopify, dual CDNs is crucial for platform performance.
Shopify offers the best world-class CDN powered by Fastly at no extra cost. Shopify stores will come out almost instantaneously anywhere worldwide, including the United States, Southern Africa, Asia, South America, and Asia.
Beware of excessive liquid loops
A Liquid is a strong coding language for Shopify. There are various cases when you need to weigh the additional benefits against costs. For loop is one of the cases. For loop means the system has to loop all the products in a collection and happen when it's looking for a particular condition, i.e. price.
As for the loop is time-consuming because every loop takes too long a time period. So it needs to review your theme code to make sure that you aren't running liquid for loops and multiple times seeing for the same information. It can happen when various developers who are working on a theme, and there might be duplicated tasks or conflicting code. It is necessary to remove any code or various same tasks that will make your page load faster.
Utilize Fast and Reliable Hosting
Depending on a user's device or network, the page speed can differ. Hosting services and infrastructure can influence your ecommerce site performance.
Shopify plus has a 99.93% total uptime thanks to the cloud-based infrastructure. Additionally, compared to other SaaS systems, Shopify stores are 2.97X faster.
Also Good To Read : Shopify performance and speed optimization.
Decrease thumbnail images sizes
Utilizing a carousel option for "Best selling products" on your homepage can be an effect because the information is pulled from your product pages and displayed as thumbnails. Problems occur when a product image is taken from a product page at a larger size than needed. When the picture is bigger, it causes the user's browser to scale it down the thumbnails which slow down your page load time.
Utilizing the built-in image size setting in Shopify. It will allow you to download the lowest image possible while maintaining quality. It asks Shopify for the perfect size image or picture that will be displayed. Then it minimizes the file size downloaded from the CDN and reduces the needed browser-side scaling.
"Minify" Your code
Google Developers have developed a method known as
"Minification." This procedure helps you to remove badly coded HTML, CSS, and JavaScript on your web page, which might cause your site's performance. There's also a group list of HTML, CSS, and JavaScript-specific resources to help. For more details, find on kangax/html-minifier on GitHub.
Reduce redirects and remove broken links
A big number of redirects and broken links might slow down your site and highly harm your SEO rankings.
Redirects
It is an excellent idea for cleaning up your redirects. 302 redirects which indicate that the page has been temporarily relocated, can hurt your SEO. They also trigger additional HTTP requests and delay data transfers. Utilize cacheable redirect or Shopify built-in redirects features. Never redirect URLs to pages that are themselves redirects. Although it may appear to be obvious, but it occurs.
Broken Links
Broken Links for page elements like images, CSS, and JS files increase HTTP requests, slowing down your site. Utilize the Broken Link Checker tool to remove them. Creating a custom 404 error page will aid users who input your site's URL correctly.
Establish your tracking with Google tag manager
Your digital marketing and digital marketing initiatives are fueled by customer data. Moreover, collecting such information might cause your site performance to suffer and blame JavaScript tracking tags frequently.
Collecting customer data which also is a time-consuming and a resource incentive burden for your developer, IT, or marketing teams. A Tag Management System (TMS) such as Google Tag Manager condenses all of your tags into one Javascript request. If a tag failure causes your website to go down, TMS is highly helps you to remove the tag fastly.
How do I test my website speed?
There are many questions in mind when it comes to website speed How do you test website speed? Are there any ways to make your site faster? How does it affect your website? These types of questions arise.
No Worries, happy there are many tools and tips booming for testing your website speeds and should make sure that your audience has a positive experience on your site that keeps them coming back. There are many tools that are available for free to test your website. Before moving further you should understand the actual meaning of what ecommerce site performance and speed mean and why it is necessary.
Wrapping Up
From this case study, you had to get an idea why website site speed is important as the slow website can also hurt SEO leading to lower search ranking, fewer clicks, and also a decrease in sales.
There are various tools available that help to improve your eCommerce site performance and speed. Easy and best tips for immediate improvement for your page loading speed for your site. Take the best time to test and improve your website speed, as you're also investing in the overall well-being of your website.
Contact inquiry@webplanex.com, to get started on your Shopify speed optimization project today.