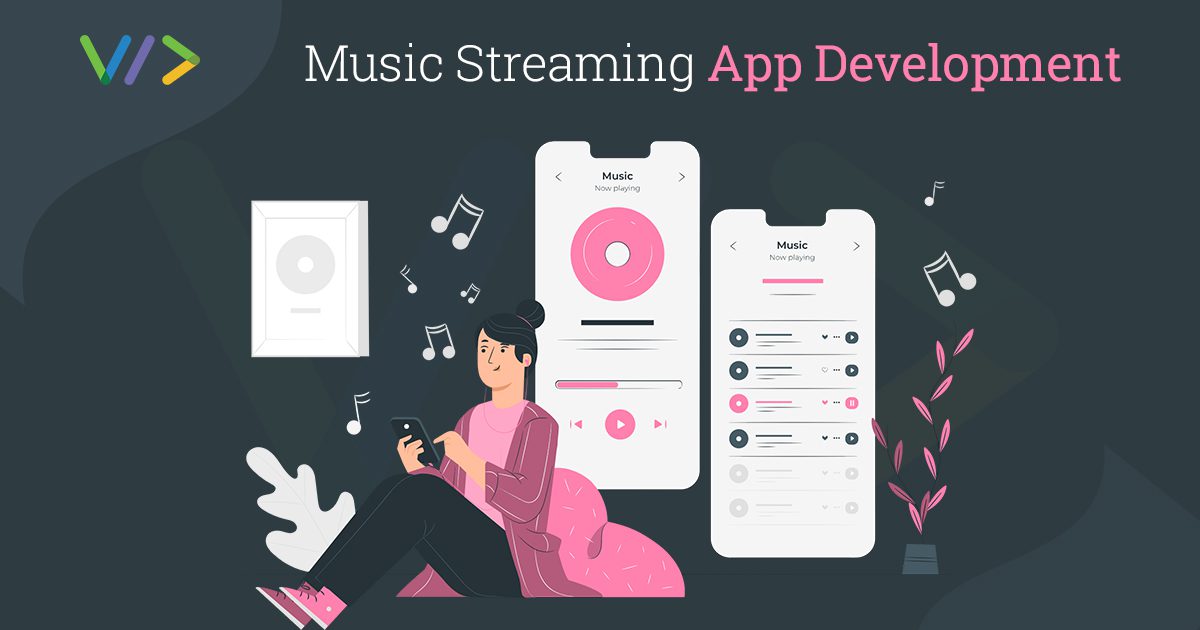 How Music Streaming App Work, Costing And Benefits
Music is an essential human function. Whether for enjoyment in listening, emotional response, performance, or creating, it played a crucial role in most people's lives. Music makes everyone feels happy as well as sad. It is one thing that people of all generations love, either adults or young ones. Music is a treatment that is completely relaxing for the brain. It has a superpower that helps relax, daily stress, and brings us into the space of joy and happiness. However, for this all music streaming app is highly beneficial.
Mobile applications have completely changed the way we live our lives. Among every one of these versatile applications like Spotify, Pandora, and others are getting a place in our lives. However, music streaming app demand on the applications stores for iOS and Android platforms. Currently, data is available easily at affordable rates, permitting music lovers to head to the app instantly. The app also allows users to listen to music anytime and anywhere. Over a decade, millions of users have been on reputed on-demand music streaming application development. Moreover, various music streaming applications available in the market have marked the industry of music streaming app.
How music streaming apps is becoming more popular? These various applications offer easy access to their users. It also allows them to listen to the music to their favourite track. The music streaming app gives users all the latest trending activities with just a few finger clicks. One thing is essential any users need an internet connection and the best music streaming app with advanced features.
Create music streaming applications to help you build goodwill with your audience and generate a significant profit. If you look forward to this industry, these articles also guide music streaming mobile application development's working, cost, and features.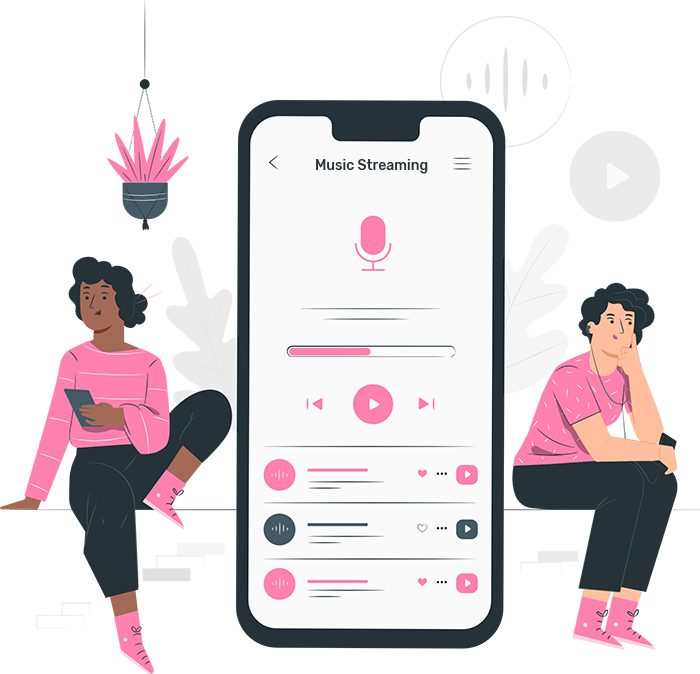 Do You Know How Music Streaming Apps Work?
You may be thinking about how music streaming apps work, what benefits, so on. Well, the process is very simple and smooth going. Apps like these provide convenient access to their users, allowing them to listen to their favourite music. Everyone is busy these days and can't go through the entire list of songs, sort them and make a playlist. Rather than doing this, they open the app and select the best music or tracks with a few clicks. The primary and foremost thing in the apps is the need for the internet. With a few steps in the music streaming app, you can listen to your favourite songs.
A seamless connection is offered, even on low bandwidth. In addition to this one of the reasons for the popularity of music, apps is this.
Features Of Music Streaming App
It is good enough to make music businesses invest in music streaming mobile applications. Suppose you have decided and seeking forward to having music streaming mobile app development for your own business. You should be able to see the features in the following list.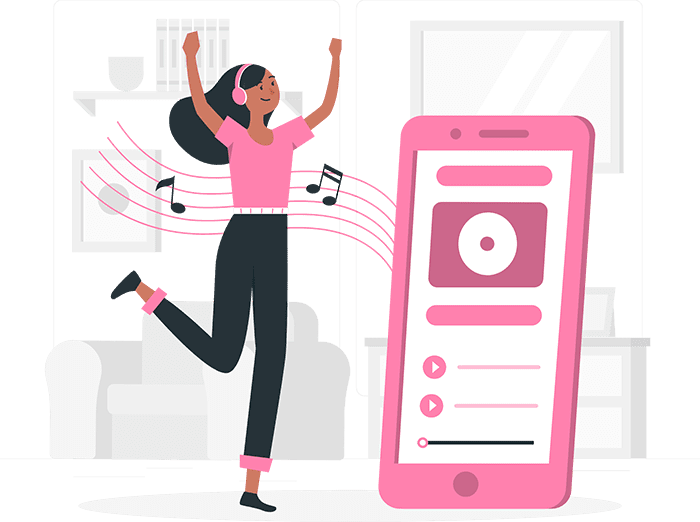 Features of User Panel
New Registration or with social media
Create a user profile
Search for music by artist, title
Listen radio streaming
Add track to your favourite playlist
Connect with speaker
Download audio tracks and listen offline
Share and stay social
Homepage
Background music play
In-app purchase, add a playlist and access to offline music
Features of Admin Panel
Manage and upload the new tracks
Login to the admin dashboard
Create playlists based on artists, categories, etc.
Push notification
Manage users
Edit/Add track, album, style, etc.
Manage all subscriptions and membership.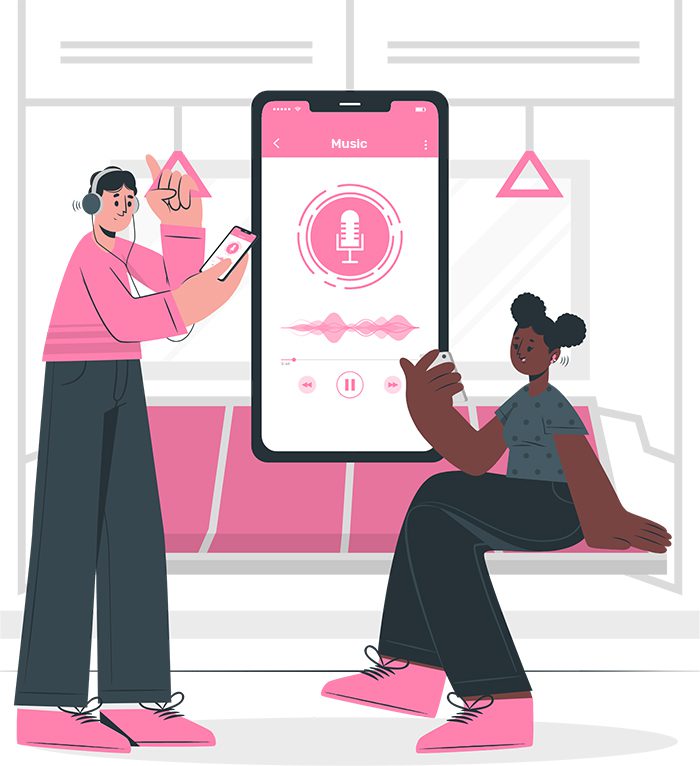 Advanced Features of Music Streaming app
Registration The first step after installing this music streaming app. Then users should have the option of registering in the application. Enter all users' basic information like name, age, country, contact number, profile picture, etc. The live music streaming app is also signed up via connecting it to their social media platforms with a few clicks.
Quick music search One of the best features is that users search for music in the mobile app. It is also one of the essential features of your music streaming app. The mobile application allows users to easily navigate around the platform to search for their favourite tracks. It allows by song name or artists and by mood, remixes, etc.
Push notification Functionality is helpful for the mobile app as it permits users about the new release song, app updates, etc. However, it is an excellent way to ensure that users know what happens within the app.
Social sharing Allow the users to follow their favourite artists to remain updated with any new collection. The mobile app developer can make people follow their friends and share the playlist. Likewise, tracks have a share option for sharing on social media. This way, smart advertisement and promotional, the app developer may get more users engagement.
Offline music It is not only essential that music listens to online. This feature is needed in music streaming app development. If the app is developed and does not support offline music playing features, then users may not be interested. It's better to use the device cache and save music offline. This feature is also helpful in low network areas.
Download and save option This feature can ease user's experience with a simple download button straight at the playlist screen.
Recommendation Live music streaming shows recommendations according to the user's choice; this adds to their connection with the app. For any app success, nothing can be best than offering a fantastic app experience.
In-app purchase Firstly, this feature should be there in an app. If anyone wants to sell a monthly weekly subscription. In-app purchase features are required to be added.
Music Streaming platform
There is a wide range of streaming services to choose from, offering limitless access to tremendous music catalogues. The music can be also streamed over the internet or downloaded directly to your device for offline listening.
Most Music streaming platforms offer new users limited free music apps or free trials for three months. Then, on the main, you pay a set monthly subscription fee.
There are various mobile music streaming app platforms is available like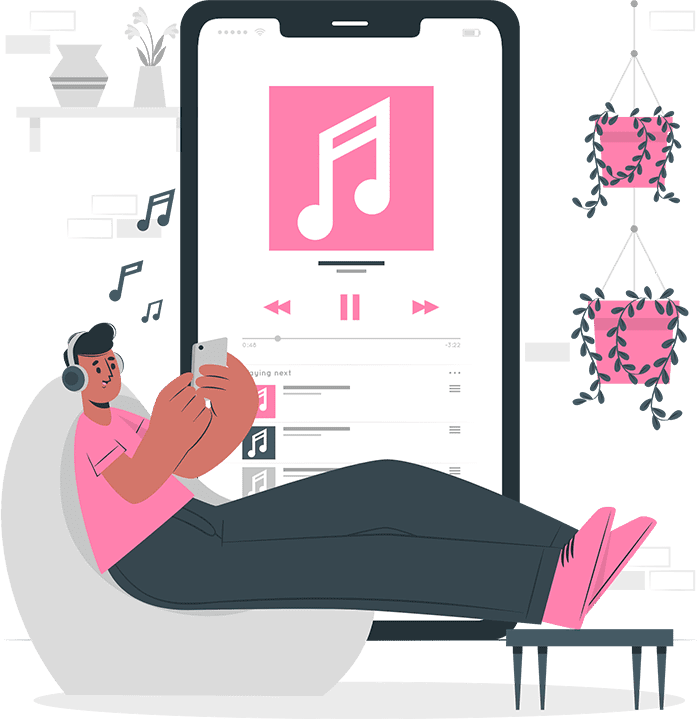 Spotify Spotify is a music streaming app platform available free and also by subscription. It allows users to browse for any song, artist, album etc. It gives access to all music in the world, anywhere and anytime. There are various benefits of online streaming services like quick access, affordability, social sharing etc. There are a few subscription plan pricing for the users.
Pandora Pandora is also a music streaming app platform available free and by subscription. The platform has million monthly users and enjoys listening. All the above benefits are also available on this platform.
Apple Music Apple music is aimed squarely at Apple users as android owners have to look elsewhere. There are also various weekly monthly subscriptions available. However, it is not available for free.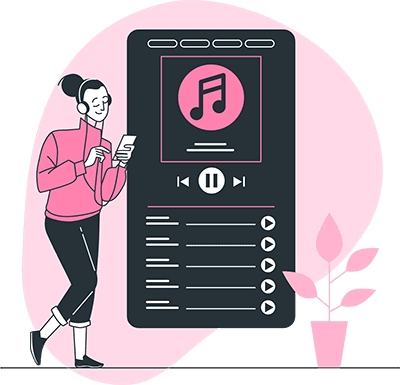 How Much does it Cost to Develop A Music Streaming App?
Mobile application developers may not estimate the cost from the starting itself. There are various factors on which the app development cost of music streaming app depends. Any application development is a lengthy and complicated process and takes a long time.
In addition, the cost to develop a music streaming app depends upon the client. Music streaming app has core features for a single platform. According to the client's requirement, various features are available according to the cost decided. However, app development is time-consuming as it has to go through various steps. In addition to this, it includes designing, coding, testing, etc.
So this all require a long time. Moreover, various music app development companies usually charge hourly, monthly, weekly according to the client needs.
However, Android or iOS would cost you around $10,000 to 20,000. In addition, anyone requires to consider different factors including app platform, features, developers' charges etc. Simple apps cost less for development, and complex apps charge more, depending on the requirement. The current standard per hour ranges from $20-$30, which is the best price for this music streaming app.
Wrapping Up
In conclusion, music streaming app development is increasing in demand. Webplanex Infotech has an expert team of mobile app developers who can help you enter the market with highly engaging, user-friendly applications. Above all features should be included in the music streaming app development. Suppose you want to launch your own on-demand music streaming service app. Hence, not to wait, However, Webplanex Infotech can quickly match you up with their expert