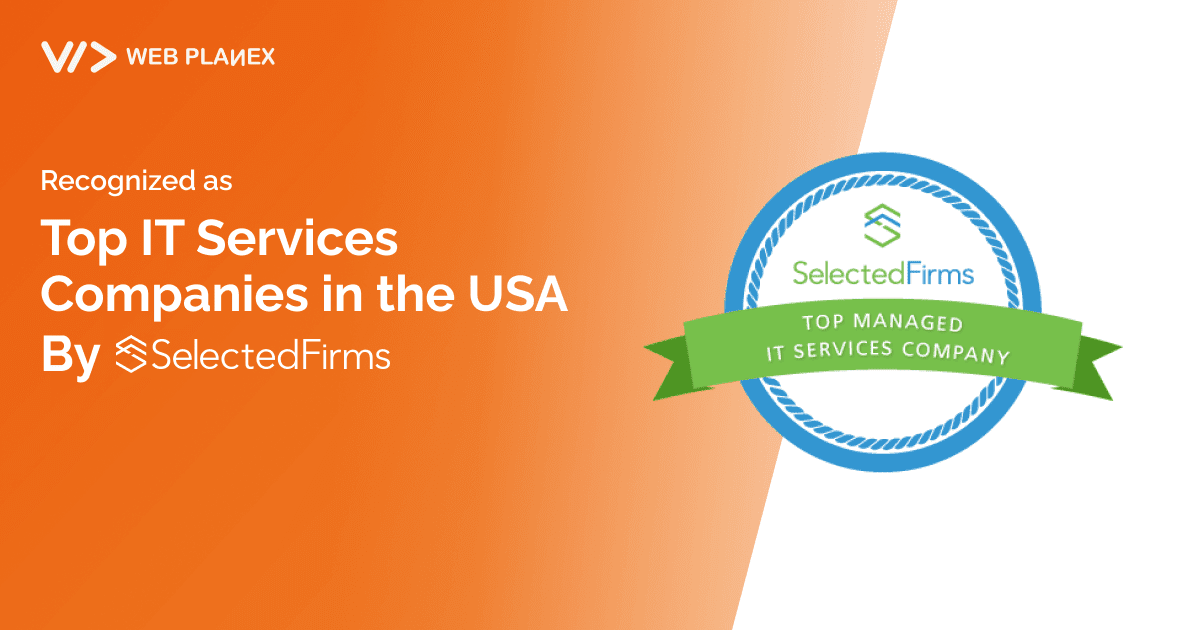 We are thrilled to announce that a leading research and review portal -SelectedFirms, names Webplanex among the top IT companies in the USA.
Why WebPlanex?
WebPlanex is a leading software development company with office locations in the USA, India and Australia, that provides a wide range of digital services to clients across the globe. The company has recently been recognized as one of the top IT services companies and Top Magento development companies in the USA by SelectedFirms, a well-known platform that ranks the best IT firms worldwide.
SelectedFirms is a renowned platform that analyzes and evaluates different IT companies based on their expertise, client reviews, and overall performance. The platform is known for its objective and unbiased evaluation process, which makes its recognition highly coveted in the industry.
WebPlanex has been recognized by SelectedFirms for its exceptional work in IT consulting and support services. The company also has a team of highly skilled and experienced Magento professionals who have delivered outstanding solutions to clients across diverse industries making them proud eCommerce development partners for many businesses.
Webplanex's' IT services include consulting, custom software development, eCommerce development, digital transformation, and mobile app development. Webplanex's recognition by SelectedFirms exemplifies the company's dedication to providing clients with high-quality digital solutions. The company is driven to remain updated with the most advanced technology trends and offer innovative and scalable solutions that meet the unique needs of its clients.
Our recognition by SelectedFirms as one of the Top Shopify development companies in USA is a significant achievement that highlights the company's expertise, professionalism, and commitment to customer satisfaction. The company's focus on providing exceptional digital solutions has earned it a reputation in India and USA as a leading provider of web and mobile app development services.
Webplanex Known for E-commerce Design and Development Needs
In the dynamic world of e-commerce, your online presence is your lifeline. To succeed, you need a partner who can turn your digital dreams into reality, and that's where Webplanex comes in. Here are several reasons why you should choose us for your e-commerce design and development:
1. Extensive Experience:
With a rich history of creating successful e-commerce solutions, Webplanex is your seasoned partner in this ever-evolving industry. Our experience spans across various platforms, technologies, and industries.
2. E-commerce Specialists:
We are dedicated e-commerce experts, focused on helping businesses thrive in the online marketplace. Our team's expertise covers everything from design and development to digital marketing and optimization.
3. Customization Expertise:
One size does not fit all in e-commerce. We take the time to understand your unique business needs and tailor our solutions accordingly. Your brand's personality and goals will shine through in every aspect of our work.
4. Innovative Design:
Your website's design is the first impression you make on potential customers. We create stunning, user-friendly designs that captivate visitors and encourage them to explore further, ultimately driving conversions.
5. Robust Development:
Behind every great e-commerce site is a powerful, reliable technology. We use the latest development practices and technologies to build scalable and secure platforms that can handle your growth.
6. Mobile-First Approach:
With the majority of online shopping happening on mobile devices, we prioritize mobile responsiveness and ensure that your e-commerce website looks and functions flawlessly on all screens.
7. SEO Optimization:
High visibility on search engines is crucial for e-commerce success. Our team incorporates SEO best practices into every project, helping you rank higher and attract more organic traffic.
8. E-commerce Integration:
We seamlessly integrate essential e-commerce features, including payment gateways, inventory management, and order processing, to provide a smooth shopping experience for your customers.
9. User Experience Focus:
We obsess over the user experience (UX). Our designs are intuitive, and our sites are easy to navigate, ensuring that your customers find what they need quickly and easily.
10. Post-Launch Support:
Our commitment doesn't end when your site goes live. We provide ongoing support and maintenance to keep your e-commerce platform running smoothly and securely.
11. Competitive Pricing:
We believe in delivering exceptional value. Our pricing is competitive, and we work within your budget to deliver high-quality e-commerce solutions.
12. Client-Centric Approach:
We put our clients at the forefront of everything we do. Your success is our success, and we maintain open communication, listen to your feedback, and adapt to your evolving needs.
Choosing Webplanex means partnering with a team that is dedicated to your e-commerce success. Let's collaborate to turn your e-commerce vision into a thriving reality.
Contact us today to discuss how we can elevate your online business.