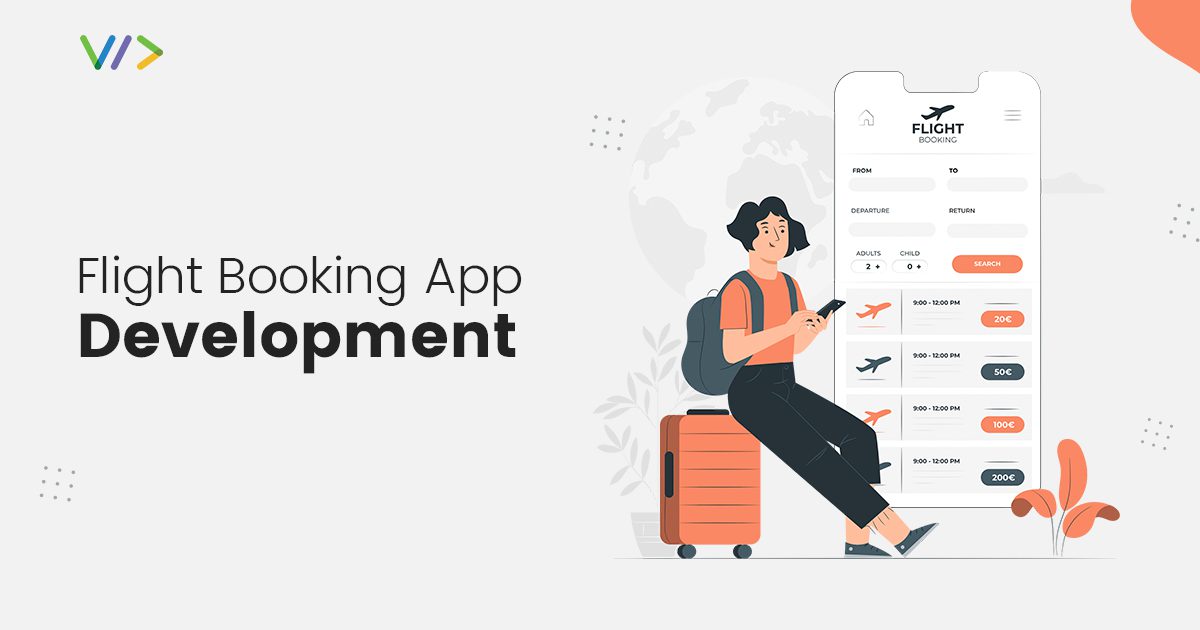 With the digital revolution, we look at sudden changes in customer expectations. To understand the whole process, I dived into deep research on flight booking app development with the intent to understand the whole process. I also researched how the app can solve the problems of users. In Short words, we can say flight booking app development allows users to search for flights and show prices. However, traditional flight booking is moving toward the digital platform.
We are looking for everyone who has a smartphone; 90% of people use it. The smartphone makes life easier, with all services with few touches over the screen. The flight booking app has transformed various ways we book flight tickets. From anywhere, anytime, at any place, you can book flight tickets—the flight booking app where you can check seat availability via mobile app.
The flight booking app is a boon for regular travellers. While 60% of individuals plan their trips via mobile apps, everything has become a single click task.
The article gives insight into several steps taken to develop a flight booking app with in-depth knowledge like features, cost, and more. Various famous flight booking apps like TripAdvisor, Goibibo etc., have had huge success. If you think the same and have unique with all required features.
So why look somewhere else? Here you will get a complete guide on flight booking app development.
What is flight booking app?
With the help of a flight booking app, you can travel worldwide. Begins booking, boarding, and easy travel management, giving a hassle-free experience. With the help of a few finger clicks, you can book your tickets. The apps are also available with advanced features like push notifications, multiple payment gateways, social integration, etc.
Also good to read: – Laundry app development features, working and cost
Benefits of flight booking app development
Utilising a flight booking app helps make your movement smoother with a simple booking process for tickets. The adaptable application allows clients to sort out their trips cost-really. Let's dive deep into some of the major benefits of flight booking app development.
Simple to book tickets – The flight booking app development is built for mobile, tablets and laptops with various choices of devices to book flight tickets. The user-friendly interface makes it simple and quick to browse and book flights.
Saves a lot of time – The majority of people know that the traditional flight booking system demands lots of time. The convenient flight booking app development leverages the customers with different benefits.
24/7 booking available and customer support – At any time, the customers can book a flight. All-day tickets booking facility and round-the-clock customer support make a flight booking very easy and smooth. If any problems arise with the users, they talk with a consultant.
Changes and cancellations – Previously, it was difficult to cancel an air ticket, and the process was also long. However, it is easier to change the flight or cancel with a single click through the flight booking mobile app.
Refunds after cancellation – The flight booking mobile apps permit easy refunds after customers cancel flights due to emergencies or other reasons.
Features of flight booking app development
First and foremost, to create an exceptional app, you must put some best features in your flight booking app development. Then, however, we will discuss all the necessary features for your flight booking app. Let's check fast.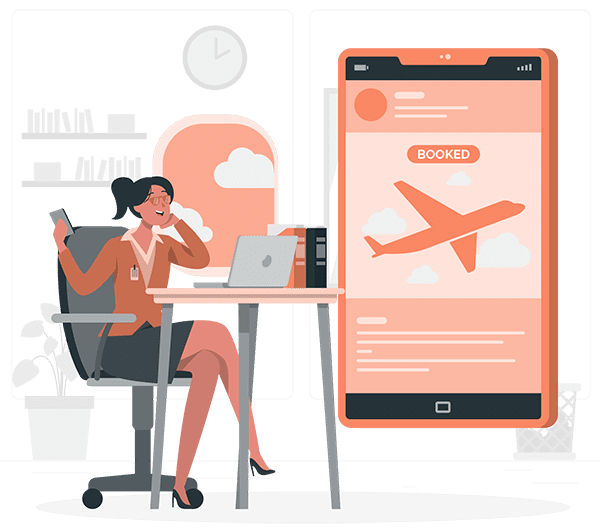 Features of flight booking customer panel
Social Login/Sign up – It is the first step after customers download the mobile flight app. Easy login for the customer to access all the services faster with their social media profiles. You can also sign-up here using your email id and phone number for the login.
Flight Schedules – This feature gives the flight details by entering the destination and time. In addition, customers can find travel details for the specific date and know various costs and availability.
Search for one-day or round trip – Customers can search for low-cost one-way or round-trip bookings. Customers also organize their trips around various countries and check availability for booking. Through these features, you can also plan trips to multiple cities.
Flight Booking – The flight booking process is easy with a few clicks and swipes. Customers can book their flight tickets through the app anywhere and everywhere.
Booking status – This is an essential feature of in-flight booking app development. The customer here can know the details of a booking. Additionally, here you can get details about confirmation or cancellation of the booking.
Check-in – This section will update airport check-in, where the customers will get a notification of their check-ins.
Frequent Flyer – These features of the flight booking app will give the long-standing customer tag to the regular travelers who fly in and out most often.
Rating and Review – More exciting features for the users giving reviews/ratings. The users can update reviews and mark ratings for a particular flight based on their experience.
Also good to read: – Bitcoin application development features, advantages and cost
Flight booking admin panel features
Admin manages the whole app data and information. The admin panel likewise be made simple as the admin also deserve to enjoy working on your app. You may add the following various features in your admin section.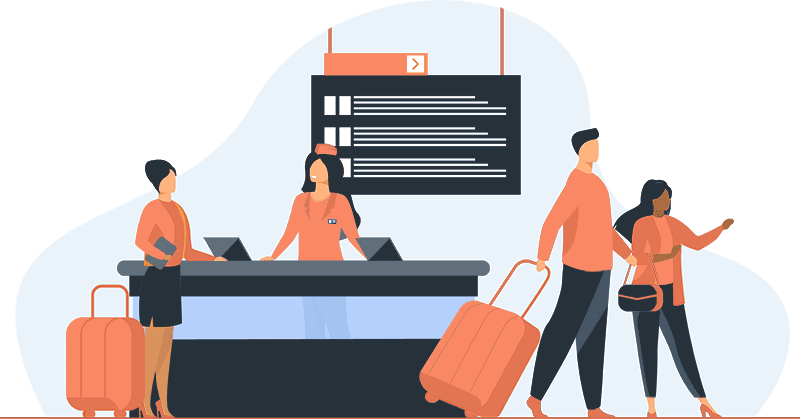 Management Information – Managing the heap of data coming the service provider's way can be made conceivable with the help of this particular feature.
Multilingual language – First thing, all users are not highly good with the English language. However, your app should support various languages so that users may find it an easy way to communicate.
Manage ticket booking – With the help of these features assigning the tickets based on the passengers, the services providers will do previous bookings and trips.
Offer management – This features services provider will be able to manage the special offer they give to their passengers on their flight booking. The offers come according to the airlines.
View searches – The service provider will also find it easy to handle the order pending, prices and highly depending upon the volume and keywords search.
Customers support – This feature in your flight booking app offers your customers 24X7 support which is essential as we all know it.
Chatbot – Conversational interface like a chatbot integrated with the flight booking app will assist the admin. Various user queries simply.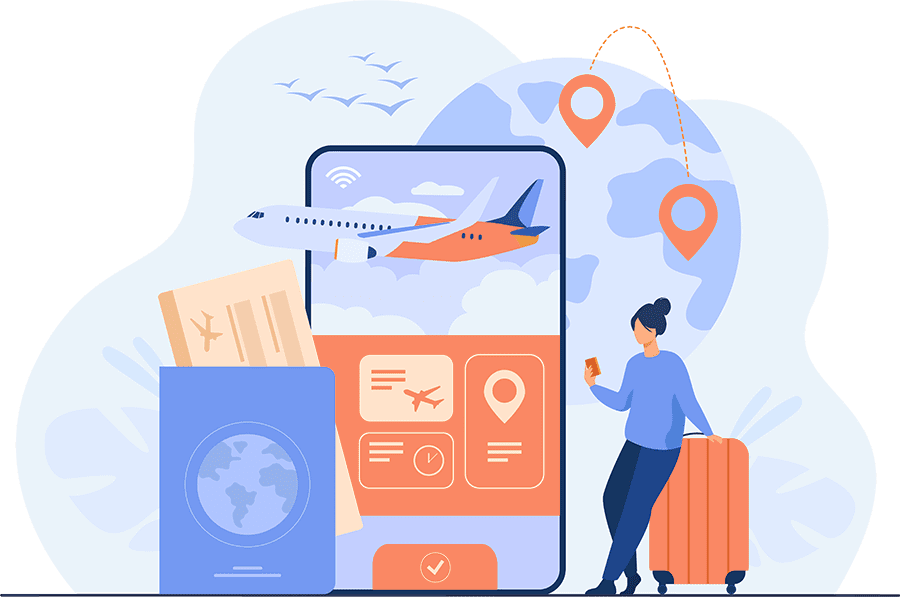 Advanced features
Push Notification – There is no unique flight booking app development feature, but it is the best. The push notification offers information about the latest discount and alerts. Email notifications are also essential.
Social media integration – Social media is an essential part of an online flight booking app. Moreover, users can share the feedback and experiences of their trips with other social media links.
Live Tracking – You should integrate live tracking advanced features in the flight booking app. However, it shows the live flight status so that users can quickly know their flight timings in case of any changes or delays.
Multiple payment gateways – Multiple payment gateways are an important advanced feature. Users who search for the flight must book flights and make payments easily. Secured payment gateway services are a matter of security and information.
Third-party integration – At the point when we coordinate with various kinds of third party integration, it upgrades the aspect in which the flight booking app performs.
In-built Calendar – It is a necessary advanced feature for the flight booking app for customers to book tickets easily. The users decide their travel day as per their choices.
Get Booking Discount – When users books a ticket first time, book a ticket in bulk, you can offer them a discount. These advanced features make your app a top priority.
Holiday Package – Holiday packages for those users who love to travel from one place to another. These advanced features can be integrated to attract more users.
Email notification – Fast and smooth communication of an email notification is there, which relies on updates of an app. It is essential for the users at the time of their trip.
How much does it cost to develop a flight booking app development?
After knowing the meaning, benefits, and features, now it's time to know the cost of flight booking app development. The cost of a flight booking app is highly dependent upon various factors. Along with these factors, there are different elements responsible for varying the general app cost.
Platform you choose
App complexity
Application design
Location
Developers team
However, you can also hire the best development company per hour, a weekly or monthly basis. The flight booking app development cost can be estimated by following the advanced and basic features. The app development not only cost is essential but also needs time to develop. The average app development cost is nearly $120-$200 per hour. A good IT company understands the requirement for entering the market, which offers you many benefits.
Also good to read: Grocery app development features, cost and benefits
Wrapping app
Flight booking app development is the latest trend in the market. As mentioned above, we have declared the meaning, benefits and features of how it is helpful.
The whole flight app development cost depends on the number of best quality features included in the apps. If you want to enter the market to include travellers' trends, you are surely at the right place. Only make sure that when you hire the best flight booking app development company that can help you earn the best rewards.