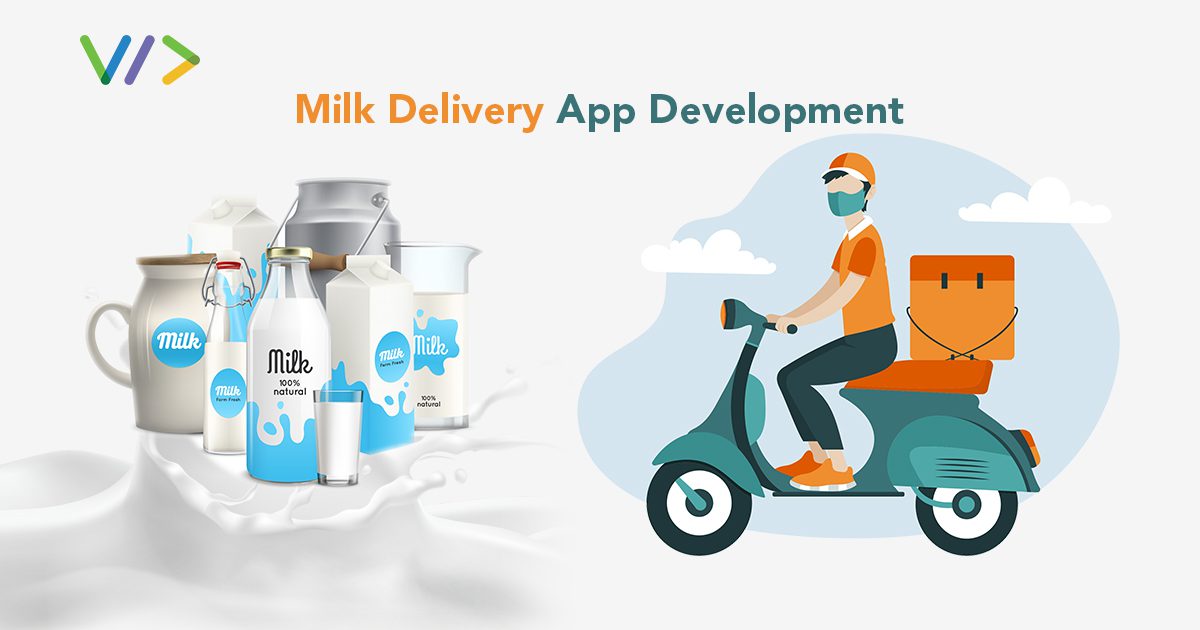 The digital field has become exceptionally quick. The advancement of technology has brought us different applications and stages that make daily life easier than ever. In the present time and age, digitalization has become pretty to survive in any industry or segment. Look at nearby area anything that you require in your daily life, you prefer online. Everything available from smartphones starts from groceries to shoes, clothes, etc. However, we missed an important thing in our daily life, i.e., milk and other dairy products. Think a mobile application allows you to order milk, butter, cheese, etc. Isn't it creative and convenient? People need to have everything delivered to their doorstep, including milk and other dairy products. Milk delivery app is becoming more famous every day with its unique features and delivery timings.
A milk delivery app means a clients' application to convey milk to their doorstep. Moreover, the app is incorporated with cutting-edge innovation and highlights that convey deliver extreme feasibility to the users. The milk delivery app is different from other apps as it requires daily human life. If you are thinking of expanding your business and developing a milk delivery app, this is a perfect time. Moreover, in this blog, you will learn about the complete guide of milk delivery app development with their features, working, etc. Let's go and start.
Working of the milk delivery app
The milk delivery app is easy to understand. First, users have to install the app from the App Store and register themselves. Then, the app asks for personal information to identify them. It includes information such as name, address, contact details, etc. Users can also activate their accounts with the help of social media sites.
Once you are in the app, it will present you with all products available. Now you can select the product you need to buy, select the time, proceed with payment. There are various options available like you can track your order and many more. In addition, the users can also recharge their in-built wallet and subscribe to a product to get it daily at a scheduled time.
Features required for milk delivery app development
Whenever any users select any product, they first notice the features. Therefore, ensure the features in your milk delivery app development awe the users. Add more features in your app to attract your users and ask your mobile app developers to create the same for you. Moreover, various features should require while developing the milk delivery app.
We will reveal the elements for specific 3 members of the application stage with a couple of advanced ones. These 3 participants are the user panel, admin panel, and delivery man. First, let us dive deep into the features.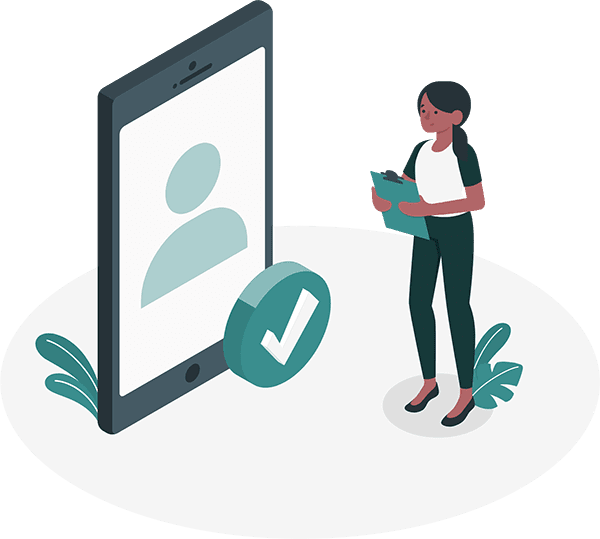 Users panel
Users play a very important role in the milk delivery app. Hence the app development focuses on the user/customer app features. The features include making it very simple for users to see the various product, place an order, etc. We at Webplanex Infotech keep the user interface as simple as possible to make the entire application easy to understand.
Registration and Login – Allow users to enter into your milk delivery app by instant registering through their name, age, contact number, or email id. However, the users also have permission to enter the app through their social media platform.
Add/manage multiple addresses – Users can set up their profile on the milk delivery app. However, sometimes users have to edit their name, residential address, payment details, etc.
Browse various milk products – Find the desired products which users want. Help users to find their favorite products instantly on your milk delivery app.
Place an order – After the completion, the users have to place the order they wish to purchase from an app.
Live Tracking – With these live tracking features, users can keep an eye on their orders and be alert about their delivery.
Rating and Reviews to delivery man – Allows users to rate/review the app's service and the delivery man. However, it also permits users to mark their rating for each order.
Multiple payment methods – One of the best features is that it allows users to pay for their selected items through multiple payment methods. The users can make payments through their credit/debit cards, net banking, and more.
Browser Order history – Sometimes, users need to look at their past order history and reorder products if required. This adds some extra level of feasibility.
Also Good To Read: Real estate portal development working, features and cost
Admin panel
The admin has to manage the whole platform. So admin plays an important role and makes specific changes needed for the betterment.
Registration and login – Admin should also log in to the app with the necessary information that is asked.
Manage orders – Permit admins to manage users' orders based on quantity, location, and more. Admin has to update about the various order of various users and other details. They can also further keep track of the picking and delivery process of the milk and dairy products.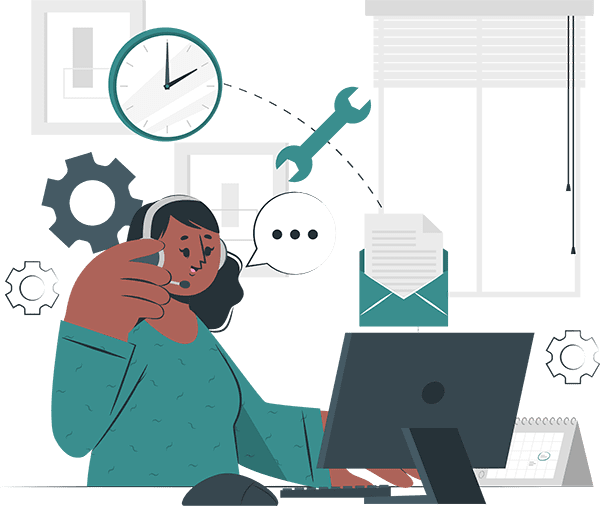 Master dashboard – The admin dashboard permit the admin to stay updated about the app proceedings in real-time.
User management – Admins are appointed to manage the customers that visit the platform. The admin closely monitors individual registration, orders, and behavior during app usage.
Track deliveries – An important part is checking the order delivery process and processing things. Consider how the thing works and create reports as to when required. Along with these features, we should consider a few more advanced features.
Payment management – The admin does the whole complete payment management. Suppose you need to make changes in the payment gateway or add any other payment method. Admin manages the whole task.
Manage Discount and offers – Admin uploads the new discounts and offers available in the milk delivery app.
Review and rating management – Admin manages the complete review and rating given by the users to the delivery man. These features are highly helpful for the improvement of the app and delivery persons.
Generate report – Reports highly help to make a business decision. Admin presents important measurements like week by week/month-to-month monetary information. The absolute number of requests, most well-known requests, key traffic producing social media platforms, and many more.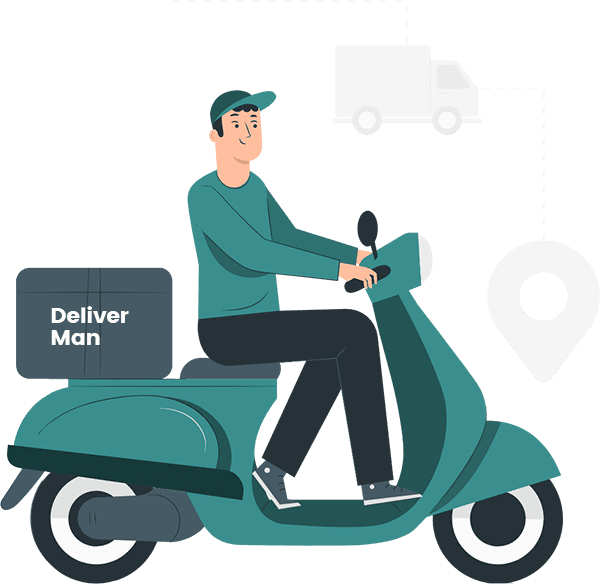 Deliver man panel
The delivery man also plays an important part in the milk delivery app. Let's check out the features that help in achieving this goal.
Signup and profile – The same process as the user delivery man has to sign up in the app and create a profile. The delivery man asks to fill out the required information and verification process that needed.
Availability toggle – Once the delivery man has completed the process of registration, now it's time to mark themselves as available by using availability toggle.
Check assigned order details – Delivery man checks the order detailed. Sometimes the delivery man accepts or rejects the delivery request by viewing the parties.
Look at the customer details – Long details of the customers like name, phone number, address, nearby landmark and more is available to the delivery man. This feature is highly helpful for the delivery person to hassle-free delivery.
Call or chat with customers – The delivery man can chat or call with customers if problems arise. The features are highly helpful when the delivery man does not get the users' exact location.
Receive payment – The delivery man receives the payment from the users. Each delivery's earnings have to be listed and saved digitally under the platform. This earning report is a very important part for the delivery man: how much total income they earn.
Map/ Navigation – Permit users to get directions to reach their delivery destination.
Advanced features for milk delivery app development
Social Login/Signup – Users and delivery men can signup with the help of social media sites.
Push notification – Let the users get notification when you have something interesting to share. Push notifications are highly used in every step. It is like a reminder to the users about the latest updates in the application.
Real-time tracking – One of the advanced features of the milk delivery app is real-time tracking. Along with the order updates, the users have permission to track orders. However, the users can track the progress of the delivery man when they are out for delivery.
More mobile wallet – Every time is paying from the bank either than debit/credit card may take some time. Therefore it's good to pay through a mobile wallet just with one click.
In-app calculator – After the users specify the type and quantity of the product required, they must see the estimation cost of the order.
Multilingual support – Another important advanced feature is the app should support different languages. Multilingual support the expansion of the business. However, everybody does not know every language, so these features help greatly.
CRM Analysis – Built-up CRM App would make it easier for you to record user engagement and check their review and response. Explore the ease of predictive analysis and cutting-edge technology to expand your user base.
How much does it cost to create milk delivery app development?
So, you had decided to build a milk delivery app that helps you stand your ground in the market? Every business owner wants to know the answer to this big question. However, there is not any definite answer to this. The milk delivery app development cost depends highly on the features you want to include in your app. However, the answer is simple as much as you have a budget. We can say every application has its own unique feature, and every feature will engage an expert developer time to build it.
Most app development companies charge on an hourly basis. Webplanex infotech has highly qualified software developers charging $30 to $50 per hour. Knowing more about the exact cost of the milk delivery app, our expert will be the final clearing point leading to massive business success.
Webplanex Infotech is a leading web and app development company. We have an expert team of skilled developers who are experienced in giving software solutions like app development, website development, etc. We are highly expertise in creating and providing the best on-demand solution like milk delivery apps and aggregator apps at affordable rates.
Wrapping up
In conclusion, if you decided to build an milk delivery app, finding the right mobile app development companies is importnat. At Webplanex Infotech we have highly experienced and well trained developers who have expertise in mobile apps. Moreover, Our expert team use highly advanced technology. We have discussed various features, costing of the app development. So, not to waste time contact us.
FAQ
Can I Customize my milk delivery app?
Yes, the client can always tell about customizations in the milk app before and during the app development process.
How much does it cost to develop a milk delivery app?
The question-answer is not simple. So many factors determine the exact cost of the milk delivery app it includes many features, platforms, and regions. To evaluate the proper cost of milk delivery app development, get in touch with Webplanex Infotech today.