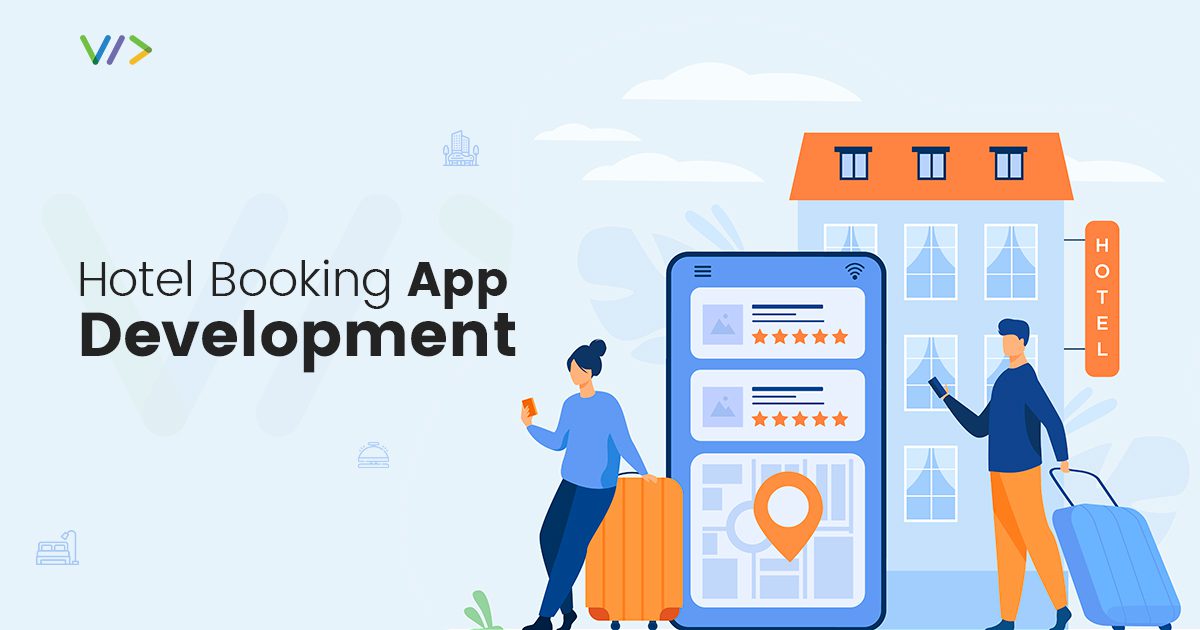 Everyone loves traveling to meet new people, look at new things and taste new foods. Travelers worldwide are becoming friendlier with the upcoming technologies. Suppose you assume that you're searching for direction on the best way to develop a hotel booking app development. Then these articles help you a lot. Sometimes, people sit at home doing nothing and going on a trip with friends or family members. The first thing that comes to mind is planning; without planning, can manage the trip properly. However, all required things like start from cab to move around, the hotel booking and more. For this all reason people prefer hotel booking app.
Around us, 70% of people opt for a smartphone and look for the hotel over the best location. We have only one thing to say. We have many things to say about the business model, features, and booking app development costs. According to the survey, most travelers worldwide are adapting new technologies to make work easy. People are looking to book hotels highly through the app as per their comfort and necessities.
If you are a hotel owner, this article is for you. You landed in the right place and time to invest in technological advancement. Several questions come to mind of the app owner: how much it costs to create a hotel booking app, what features the hotel booking app needs, and more. This article helps to give a complete guide to build a hotel booking app devlopment for your hotel. Let's take a deep dive.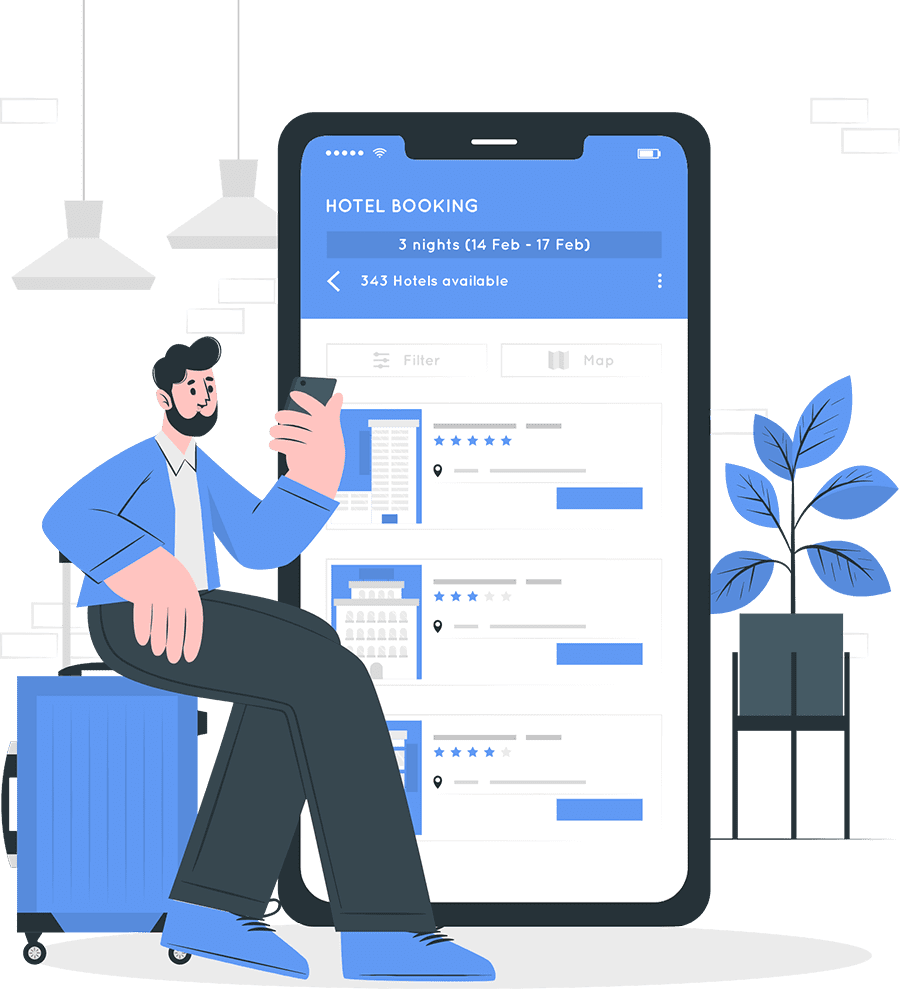 Various types of the business model for hotel app development
The first thing is to decide which business model you want to follow for the hotel app development. However, when you reach the hotel app development company, we can offer you, different models. It includes the advertising, merchant, aggregator, and dedicated models. This model you can select that will highly impact the key features and cost of hotel app development.
Merchant Model – In this merchant model, the hotel app owners sign an agreement with the hotel owner. The hotel app owner owns a specific number of rooms at a discounted rate as they are getting hold of the rooms at wholesale price. These rooms are offered to app users with an average 20-40% margin. Costs of the rooms and hotels may vary depending upon various factors, according to the travel demands. Some famous hotel apps highly utilize this merchant model.
Aggregator Model – This is a generally utilized and somewhat direct model. Aggregator apps are connected to a few online booking services. Thus, when the customers look for hotels, the app shows a list of hotels with a wide scope of price tags. Clients can then look at costs and get the best arrangement for hotel rooms. The aggregator application diverts them to the site of the selected booking platforms. This is a wonderful model for the customers to find and compare prices to avail bookings at the lowest prices.
Also good to read: – aggregator app development features, cost, and working.
Advertising Model – This model is the same as the aggregator model; however, it also lists various rooms of many different hotels. However, through this different method by which, the advertising apps generate revenue. The hotel booking app development uses this model to earn on a pay-per-click basis. These sites display various buttons that let users go to the booking page of an accommodation provider. Moreover, many famous hotels use various advertising apps to get maximum exposure for their business.
Dedicated Model – If your hotel booking business is already settled and you have many repeat clients, this model is perfect. The apps are not just for scheduling purposes, as they take requests made by the users during their stay. Your hotel booking app development can offer additional advantages, for example, concierge services and loyalty programs. However, you can come up with a lot more thoughts, like car rentals, booking tables at a restaurant. Therefore, we can say that you're free to implement any features you like to help your clients get the best services imaginable.
Benefits of hotel booking application development
However, it benefits all app users like customers, hotels, travel agents, and app business owners. The hotel booking app is one of the best choices to make. We share various benefits of having a hotel app for your business.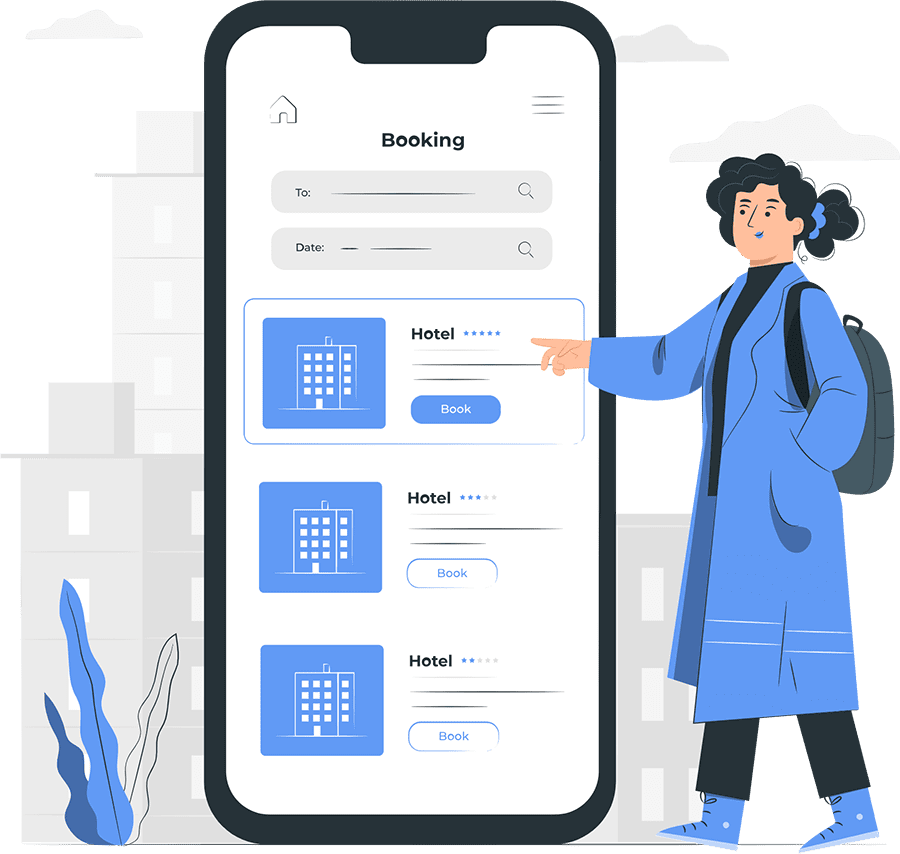 For Customers – They get various benefits like Security, convenience, efficiency, reliability, the best value for money. It is one of the best solutions.
For hotels – These apps play an essential role in attracting direct booking as you generate sales at a high rate. The brand promise, customer loyalty, and direct reach come under the hotels' benefits through these apps.
For Travel Agent – In this section, you can give a major boost to your business. The apps permit you to explore some new markets, user engagement, brand recognition.
For the App Business owner – Apps business owners tend to look for endless benefits ranging from users engagement to various revenues streams like commission, fees, etc.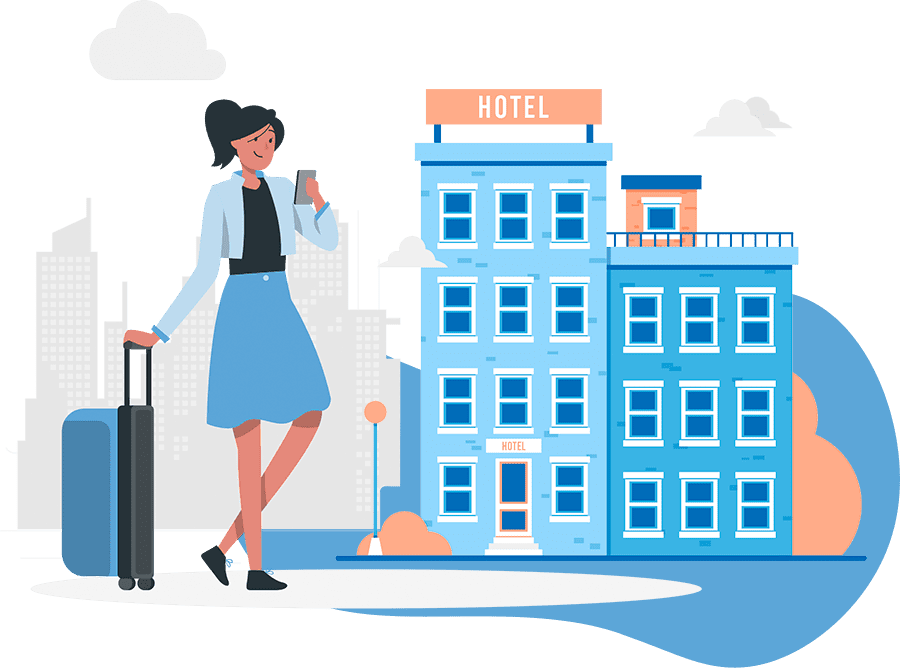 Essential features of hotel booking app
Features are the outlines on which the hotel booking app works. Apps owners make sure to integrate innovative and essential features that make the process smooth and easier. So, here is a collection of hotel booking features that can make your app famous among various travel enthusiasts.
Search Options – Most hotel booking apps are developed due to these search options. However, as users enter, they start looking for the hotel, they search parameters. It includes the city, name of the place, date of checking in, date of checking out, and information about pets. A properly designed and visible search bar makes it easier for the users to find exactly what they are looking for. However, it happens sometimes, and the users are looking for something unique.
Booking and cancellation – The users had settled on the decision of the hotel that they would stay in. They are directed to a safe and secure payment gateway like credit/debit cards, net banking, etc. However, most hotel gives a complete refund to their users within the first 24 hours if they cancel their booking. This feature is beneficial to the users but more difficult for hotel owners. As most of the cancellations are made just a day or more days before the date of arrival of users.
Also good to read: – bitcoin app development advantages, features, and cost
Customer account – The customer's information is stored like their booking history, wish-list, language, currency, etc. Here the customers received a discount and personalized offers based upon the data owners collected from their profiles. This account can be used to make payments at places and gives several in-app advantages.
Different payment channels – After the users decide upon the best accommodation that suits them. Then the customers will ask for the other payment channels to make payments through a wide range of options in various forms. It includes either credit/debit cards, net banking, GPay, PayPal, etc. Over the years, we have been delivering similar solutions and can help you to create a robust payment app that gets you the best results.
Hotel account – One of the necessary information associated with hotels in the form of price offers. This account also includes other information like discounts, best deals, available rooms are all made available through the hotel account.
Hotel Details – Entire hotel details information can be seen in the development of the hotel booking app. It includes a various number of rooms, price details, discounts, and everything else. In addition, however, users can check other visitors' reviews and comments and have a virtual tour of that place before booking.
Push notification – Push notification plays an essential role in the hotel booking app. It alerts users to their booking, check-in/check-out, offers a discount, etc. This is one of the best methods of holding your audience with your brands.
Online Receipt – Once users have made a booking for their accommodation, they are sent an online receipt on their mobile phone or email. However, this message is helpful at the time of hotel arrival.
Advanced features for hotel booking app
Gps Integration – This is the most advanced and essential feature for the Hotel booking app development. Global Distribution System is a worldwide computerized reservation network. It is useful for travel agents, online reservation sites, and large cooperations.
Cost room forecast – The flight and hotel costs always go up and down, so it is hard to calculate the actual cost.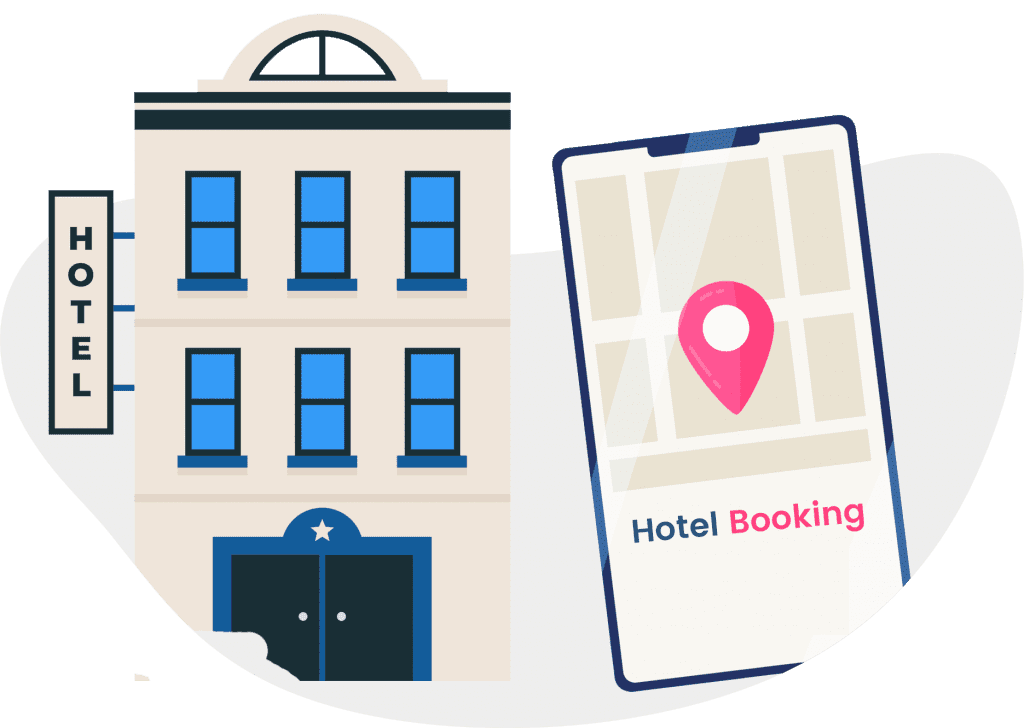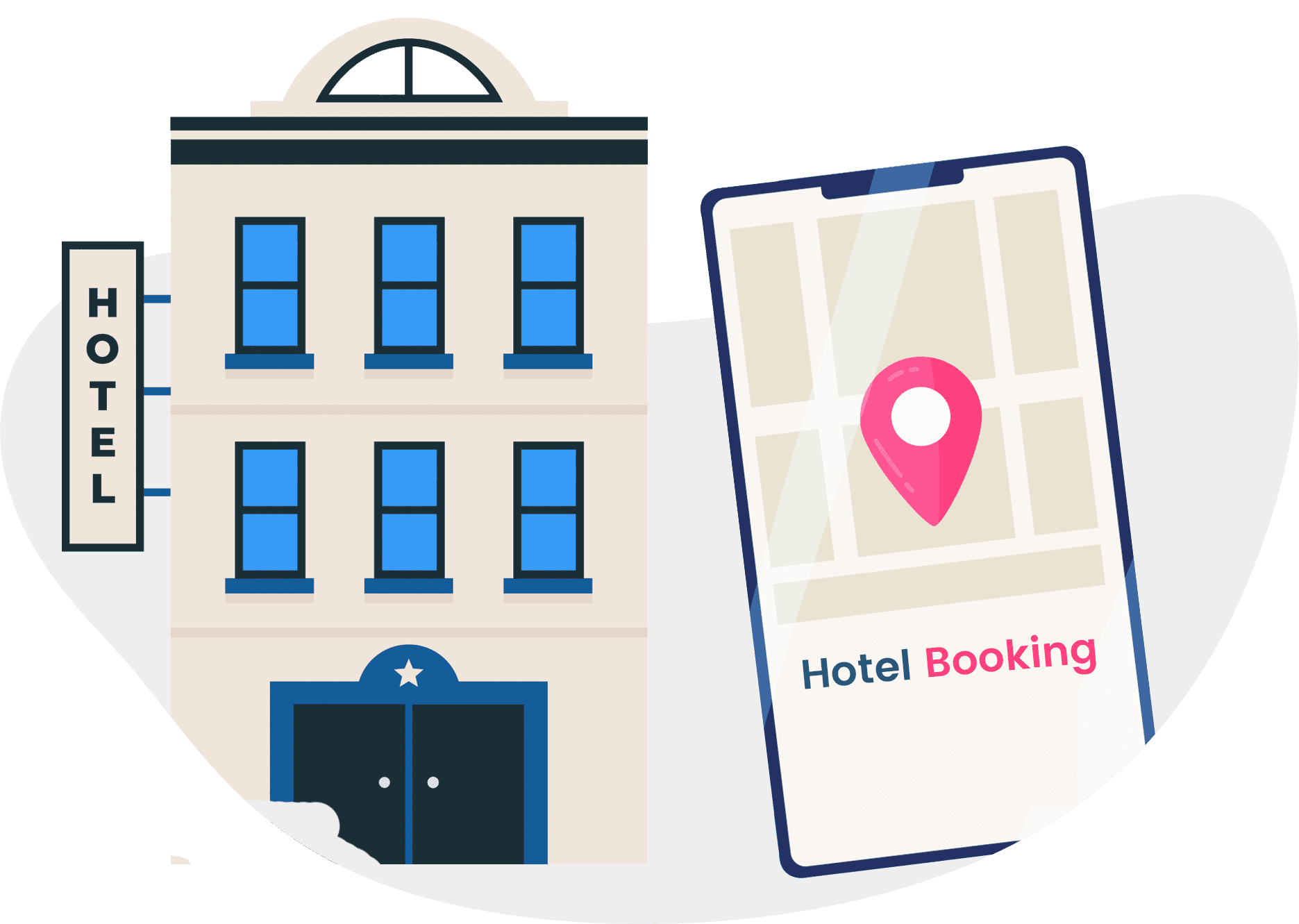 Language converter – Your hotel booking app must support multilingual support to promote worldwide. However, all are not aware of every language, so the app needs these features to add for the user's convenience.
Immersive Hotel Preview – This feature allows the users to preview the hotel rooms before a booking. High-resolution images, 360-degree views, and 3-D tours can transport them virtually in the room. The users have real experience with these features.
Review And Rating – This feature permits you to get reviews/ratings about your app from the users. For example, sometimes the users must give the good or bad experience of staying in the hotel. This feature says whether the users are happy with the services or not.
CRM Integration – CRM integration is significant for hotel booking app development. These features where customers' experience is everything and guarantee your customers feel comfortable, this component will be enormously helpful.
Analytics dashboard – The analytics dashboard manage and is part of the admin. The admin has to access the data to enhance decision-making. It includes a hotel dashboard, customer dashboard, and flight dashboard. However, the booking can be offered at a lower price when the booking is low.
Also good to read: – logistic app development features and cost.
Marketing Tools – Marketing tools play an essential role in attracting the audience you want to win. Various marketing tools are available like chatbots, Email marketing, social media marketing, and more.
Taxi Booking – Taxi booking is a third-party integration that comes into the picture. It means various taxi bookings like Ola, Uber, and more. However, it is pretty easy for the users to book a travel medium.
Hotel Comparision – The app adds a long list of hotels. Users can have a long look list of hotels. However, Users can look at all the available options and then decide which hotels fall in price and have a proper range.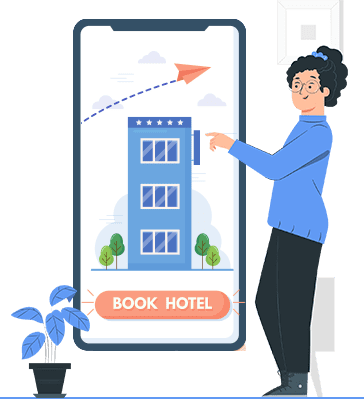 Cost to develop a hotel booking app development?
Every app owner has a question in mind how much does a hotel booking app development cost. The cost of developing the hotel booking app highly depends upon various factors. However, estimating the proper cost of developing a hotel booking app for Android and iOS depends on various factors. It includes application features, platforms you choose, technologies and tools, team structure, location, company, etc.
The first thing is that any owner should decide on the particular Operating system, Android or iOS, or the cross-platform app. It also depends upon the size you choose and the overall complexity. If complexity is more, the cost will be more.
However, you can hire an app developer hourly, weekly, or monthly according to your choice. The hourly rate starts from $120-$180 per hour.
Moreover, it is very difficult to give a certain round figure for the cost involved in developing an app. Because the cost will change according to the complexity, features to add, and hours required to develop it.
If you are looking forward to getting an Android or iOS app for your hotel business, contact Webplanex Infotech.
Wrapping up
The hospitality industry is also altering its routes and going into a digital way. Hiring a leading mobile app development company will help you in every way in the development process. At Webplanex Infotech, we provide hotel booking app development service by our skilled professionals with years of experience. Our expert team helps your business to manage the operations using various criteria like affordability, hospitiality etc. However, you get the whole idea about the booking app development including its featrues, business model and cost.
FAQ
Can Customers rate and review the hotel?
Yes, users can rate and review the hotel.
How much does it cost to develop a hotel booking app?
The cost to develop hotel booking app is highly depends upon various factors like platform choose, features, location etc.