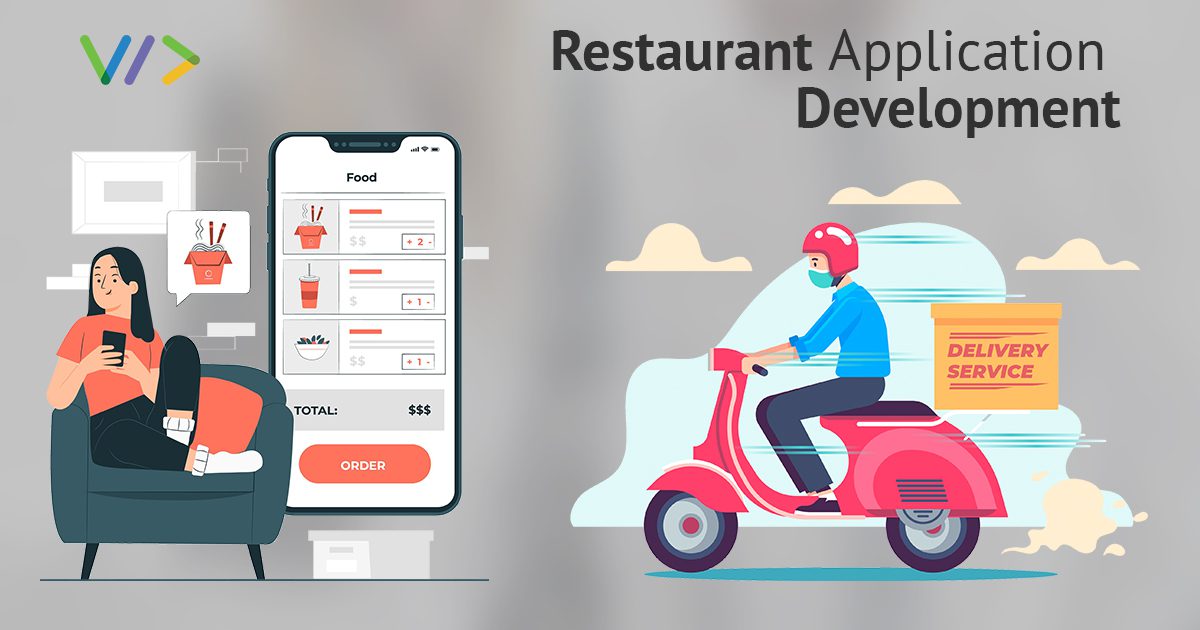 Restaurant app development: Features, Benefits cost
These days the online food delivery space is acquiring huge. Various online food delivery and restaurant platforms permit cuter Covid-19 the restaurant app market is booming. However, when Covid19, everything shut down, and all people were forced to stay at home. At that time restaurant, online food delivery continued. However, many students and youngsters are staying alone that time the mobile restaurant app development has played a big role.
Advanced technology empowers various business owners to create an experience that is engaging, simple, as well as convenient. When technology is booming, the internet has been everybody's business. Online activities have also become much more popular. The online creation of apps also helps people easily with a few finger clicks. However, the days gone were only the reception counter handling restaurant operations.
Now, do you know that all activities are done and managed by a mobile restaurant app? There are many famous restaurant apps like FoodPanda, Uber, DoorDash, etc. So, if you are starting a restaurant and want to develop an app, the information below will help you a lot.
Here in this article, before moving further. Firstly, we'll take a quick look at the current market. For restaurant app development, there are many main features. Various reasons why you invest in developing a restaurant mobile app, benefits of the app for restaurant business owners. How much Does it cost to develop a restaurant app development?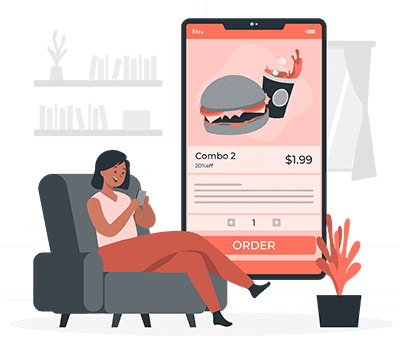 Why did you invest in developing a restaurant mobile app?
There are many reasons restaurant business owners choose to invest in mobile app development. Using smartphones, the business world is highly turning towards mobile app technology. There are various business industries; whether it may be retail, travel, education, food, all are entering the mobility solution. Is anyone wondering for your restaurant business and really requires a mobile app in the market. In short, webplanex Infotech mobile app developers help you to understand the importance of apps.
5 Top Reasons To Opt Mobile App Development For Your Restaurant Business.
As per the survey, 80% of people use smartphones to find the best restaurant locations and directions nearby. Customers get their selected food at their doorsteps, get more discounts and coupons. However, there are numerous reasons for investing in a restaurant app solution for the restaurant business. Some of the below are the top 5 benefits for restaurant app development.
Reach to your Audience
Hassle-free booking
Notify Customers
Increase restaurant brand awareness
Improve your services
Features to Comprise the Restaurant app development
There is a long list of amazing features which is also taken into consideration for your restaurant app development. There are various panels available in this mobile app. Various famous apps like McDonald's, SamsPizza etc., have included these applications to offer their customers. Meanwhile, features of restaurant app development depend upon 3 panels like admin panel, users, food delivery man etc.
Features for Admin
The administration monitors all the progress of order execution and delivery. However, different versions to handle all the operations and make food delivery is fast, efficient and on time. Here is a list of features that are part of any new application.
Delivery Zone Setting This is also one of the advanced features to assign deliveries location wise. These will be convenient and robust deliveries that help your restaurant business popularity.
Report and Analytics A huge database to view everything from first to last steps. Right from accepting orders to delivering, commission, turnover, sales and purchase.
Site setting Restaurant admin app panel also permits you to design the general look and data necessary—the general look of data such as Logo, Site name and more.
Category management In the restaurant app development, there are various categories like products to sell various food items.
Customer Management The overall handling done by Admin. All aspects of customer experience like easy signup, history/profile and account details.
Payment Setting Various options like credit or debit card to receive payment for placing an order in an online restaurant app.
Delivery Tracking Easy to check food delivery status to enhance user convenience. The best feature for the customers is that they can easily track food arrival time and know their status also.
Features For Restaurant Owner
Order Management Online order management features to manage all aspects of order acceptation, update status, pending, reject etc.
Food Items Management However, there are various types of food dishes available. Future to add new dishes in the product list, delete etc., that help the restaurant owner.
Menu Management Menu and submenu make information easily accessible for customer benefit.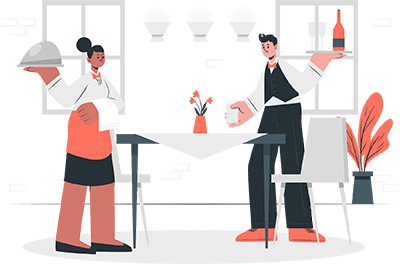 Review of Restaurant Firstly, the review is necessary for all mobile app development. The services are given by the restaurant owner. Customers have to give reviews about the restaurant services. Review of Restaurant can also given by customer highly helpful for promoting.
Restaurant Open/Close Timing There are some timing fixed for opening and closing the restaurant. But sometimes, due to some situation, it needs to change.So this open/close timing features is useful for this Restaurant app development.
Social media integration Social media integration has become a compulsory feature for every app. Moreover, in restaurant industry customers need to review their experience, take pictures and upload them to social media accounts like Facebook, Instagram etc.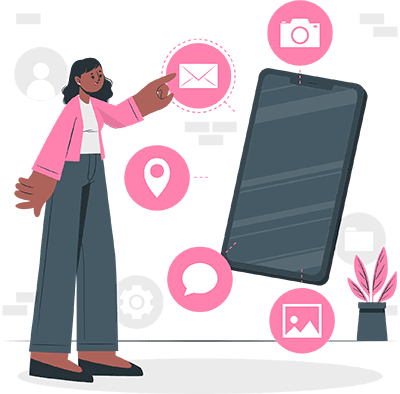 Features For User
Registration Begin for all the apps, registration is also compulsory. However, you cannot move further without that. The first step for users is to do fast registration of profile edit profile according to the requirement. Registration can also be done through email or other social media networks.
Search for the restaurant The whole process completed the registration, and all new users will search for a restaurant. Based on location, search nearby restaurants and order food.
Add to cart There are various other restaurants available. After the time of final order from various restaurants and add to cart.
Chat Sometimes, it is necessary to call the driver/delivery person to find the order's status. It also helps confirm the location in case of any delay or finding a location.
Feedback and Review It's part of the users. Users provide reviews and ratings to other restaurants based on various parameters like quality, presentation etc.
Real-time tracking Track the live status with the live updates of the location and status.
Payment After all the ordering process is completed now, at last, it's time for payment. Users can choose various options for payment. The users can make payments by using various modes of payment using credit/debit cards, Gpay etc.
Table Reservation Customers find it difficult to get a table for this one option in the mobile app: table reservation. Every restaurant mobile app also requires a table reservation option for your customers. This helps cut down customer frustration that undoubtedly arises from long waits to get a table. In short, its best features for restaurant app development.
Features For Food Delivery Man
Delivery Management Get all the latest updates of the real-time tracking of delivery information. Get the live information about the order status, pickup and delivery status.
Pick up order Automatically assign a driver to pick up food based on location and nearness from the eatery.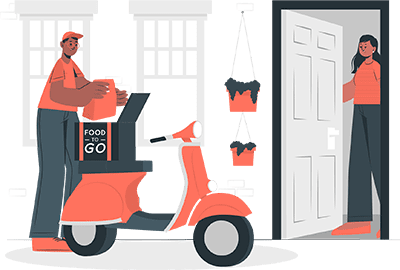 Additional Standard Features
Different payment method
Live order that also permits observing the request guarantees that clients will get super on schedule.
Social media integration with Facebook, and Instagram.
Reviews and Ratings are also needed when users leave the application after the order is completed.
In short live order permits monitoring orders that ensure that customers will get a meal on time.
Push notification is needed to know all the latest special offers.
Also, Good To Read Packers and Movers mobile application development
How much does it cost to develop a restaurant app development?
However, the cost to develop a restaurant app highly depends upon various features. Below you can get an idea about those factors.
Experience of the company
Platforms for application Deployment
Features of mobile app
Various payment integration
For one application, it needs various factors and complexity. It includes software developer cost, designer, testing etc. Additionally, the cost to develop a restaurant app development depends on the platform you choose. Development of app is also depends on the number of developers involved in each part of the process.
The app developed for restaurants can be of 2 types for example a simple one and a complex one. The development of the restaurant app is not completed within 15 days. It takes time to complete.
The simple app with a few basic features that also include menu, payment, push notification, review etc. The advanced app includes pre-book tables, add reviews and ratings, online table reservations, menu with pictures etc. All these functionalities are also for developing complex apps. Restaurant apps also require a minimum of 30 weeks and the average rate per hour is $30-$40. Depending on the factors, restaurant app development costs will be around $15,000 to $50,000, comprising core features.
Wrapping Up
In conclusion, we went through all the features, costs, and benefits. Restaurant app development brings lots of profit to your business. After seeing the Pandemic situation, it became more popular. These also help with limited budgets to reach out to their target audience.
Webplanex Infotech is an experienced restaurant app development company that has been in the industry for many years. Join your hand with us to have a feature-packed quality app to help your business touch the heights. However, company acquires highly professional teams come in touch with the client's requirements. So why waiting, contact Webplanex Infotech.
FAQ
Why do restaurants require a mobile application?
The best reason you require restaurant mobile apps is for consumer loyalty. However, the app not only helps the customers but helps you in managing your restaurant in an easy manner. Mobile apps will also allow effective marketing of your restaurant and reach your customers.
How much does it cost to make a Restaurant app development?
The Restaurant app development cost depends on the various features that clients want to integrate. The developer's hourly rate is a factor that is need to be taken into consideration.
Why Should I create an app for my restaurant?
As per the latest research, 89% of adults also search for local restaurants with the help of their smartphones. Before making any decision, 67% look up menus. There are many benefits available when restaurant owners create an app.